The 2016 Banknote Demonetisation in India set the stage for the unprecedented upsurge in the use of digital wallets or e-wallets in the country. With the government's policies in favor of a cashless economy, transactions over e-wallets have increased, providing convenient, secure, and traceable digital payments for scores of Indians. Over the last two years, the e-wallet boom has made its adoption a matter of necessity rather than a passing trend. Some estimates predict that by 2020, there will be 726 billion transactions completed over digital payments!
The idea behind e-wallets
The idea behind how e-wallets work depends on the storage of payment information of a consumer in a secure and compact manner. E-wallets provide a treasure trove of available consumer data. With this information, businesses can further analyze the spending preferences of a person.
What is an e-wallet?
E-wallets employ near-field communications technology to make transactions quick, simple, and safe. Digital wallets that use the interface of a smartphone and an application-based payment technology are called mobile wallets.
How e-wallets work
Most digital wallets have smartphone apps. Suppose you want to pay for something at a supermarket, provided that the business establishment accepts the e-wallet payment, all you have to do is to tap your phone. Voila! Your payment will be processed in an instant. You do not have to carry physical cash or cards, which are liable to be stolen or misplaced. For e-wallets that are not app-based, all you have to do is furnish personal information, such as your mobile number or a secret PIN number.
How digital wallets work
Let's have an in-depth, detailed look at how digital wallets work and how a person sends and receives payments with this fintech innovation.
Before you set up a digital wallet, learn about the credibility of the company offering the service by checking RBI's certification of the company. By starting the process of setting up an e-wallet, you trust that the banking information you share will remain secure. This security of the data extends to company archives in addition to the data on your own smartphone. Firstly, you will have to submit your bank and card details. It will be used to draw funds and transfer them to the digital wallet.
It is not necessary for many e-wallets to have anything akin to a minimum balance. The amount of money that you want to keep in your e-wallet depends entirely on you.
When the time for making a payment arises, the process is akin to an encrypted interaction between banks. Payments through digital wallets are considered to be safer than payments through cards. This is because the associated card's information is never really revealed to the retailer. Furthermore, the security protocol adopted by e-wallets is enhanced to serve the security needs of consumers like you.
The transaction details are processed with security and swiftness. Funds from the bank or the e-wallet are transferred to the merchant account and deducted from yours. This is how digital wallets work.
Now that the payment has been made, both the buyer and the seller can look forward to getting what they wanted. The buyer gets the product and the merchant gets the payment.
Accountability is rarely an issue with e-wallets. This is because comprehensive records of all financial activity are stored by the company that owns the e-wallet. Moreover, the seller's provider of merchant services keeps detailed records in case any dispute should arise.
Benefits of e-wallets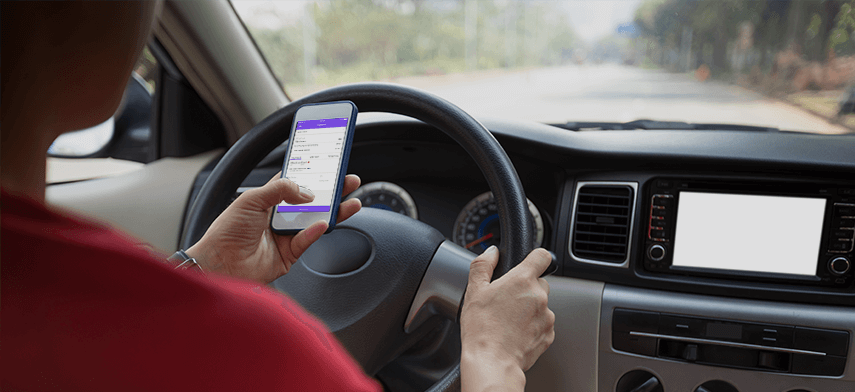 Digital wallets have successfully become a part and parcel of the daily life of millennials. This is due to the benefits they offer. Some of the benefits of digital wallets are as follows:
Security - RFID tags deliver information Both cash, as well as debit/credit cards, can be easily lost or stolen. E-wallets, however, encrypt financial data. Even if your smartphone gets stolen, you can rest at ease knowing that your financial information is safe. This is due to the fact that such data is typically protected with additional passwords, PIN numbers, or in case of smartphones with fingerprint readers, your fingerprint itself. Furthermore, when a payment transaction is processed, good e-wallets ensure that security is guaranteed. They do this by keeping personal information secure from merchants or even from their own staff. This helps in controlling fraud and theft.
Your smartphone is your e-wallet - In this connected age, it is rare to find anyone without his or her smartphone on their person. This is the great convenience that app-based e-wallets offer. People can proceed to buy things even in the absence of cash at hand.
Convenience - An increasing number of people are getting accustomed to and enjoying the freedom offered by digital wallets. One need not negotiate with a disarray of coins, cards, and cash stuffed into a wallet anymore. E-wallets store detailed information about your financial transactions in a safe and convenient manner. This information is always at your fingertips along with your smartphone.
Streamlining the process of purchase - The purchase process has been made really simple. All you have to do is to take out your smartphone and tap a notification. You may have to scan a QR code and authorize the transaction. You can avoid the hassle of looking for exact change or waiting for a card verification step.
Simple e-wallet management - You can top up your e-wallet anywhere and anytime provided that your internet connection is working. You can also manage your e-wallet from any digital device - be it a laptop, desktop, or any mobile device.
Currency flexibility for merchants - Currency flexibility for merchants is a considerable benefit. Many merchants conduct their businesses with overseas clients. In this, with digital transactions and e-wallets, they can accept payments in a large number of currencies.
Types of Digital Wallets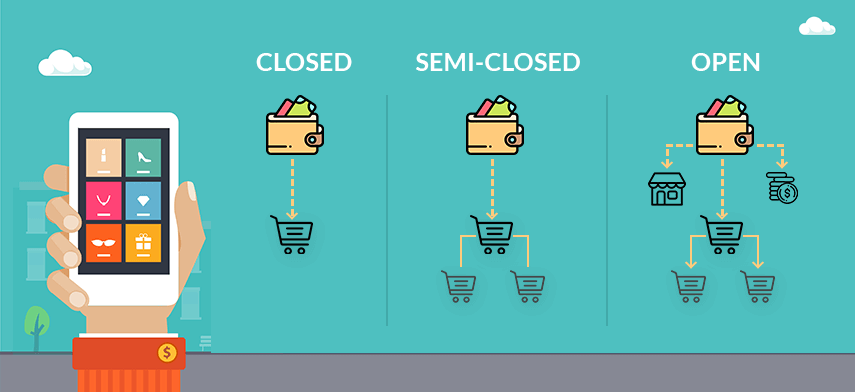 When found in smartphone app variants, e-wallets can be used to store travel tickets, loyalty rewards for customers, and gift cards. E-wallets provide a safe, fast, and convenient mode of making and accepting payments. E-wallets come in three varieties:
Open wallets - This type of e-wallet is issued by a bank and their partners. Transfer of funds and cash withdrawal from ATMs are among the possible options available with open wallets. They function more like cards rather than typical e-wallets.
Closed wallets - Closed wallets have limited functions. They are usually provided by a business and can be used only to make payments to that business entity. However, the user can always transfer the money back to his bank account as per his or her wish.
Semi-closed wallets - Semi-closed wallets have a sponsoring company. Customers, however, have the freedom to use such cards to pay several vendors. Aside from semi-closed wallets, users can also transfer funds to other users who use the same service. However, the limitation of such an e-wallet is that the users are not able to withdraw cash and deposit it to their bank account without incurring a fee.
Integration of e-wallets with apps and online stores
Increasingly, standalone e-wallet apps are gaining popularity over other types of alternative payment methods. So, it only makes sense to integrate this payment option to your online store or app. After all, the e-wallet market is expected to stand at USD 3142.17 billion by 2022.
How e-wallet integration has improved the experience of taxi-booking apps
Mobile apps have a number of distinct advantages when payment options are integrated with wallet systems. Let us take the example of the integration of the digital wallet with taxi booking apps. The advantages are as follows:
Minimal paperwork - Most riders who use taxis, especially those taking a cab to work, have to fill up a lot of paperwork for reimbursement. Storing so much data in paperwork can quickly become overwhelming and may lead to mistakes and omissions. If you have an e-wallet, digital receipts can always be accessed.
Billing is automated - Riders can finally bid goodbye to the hassles of tendering exact change as the fare is simply deducted from the e-wallet. On the other hand, the driver benefits from using an e-wallet as it acts as a payment-processing bridge. They are, moreover, free to withdraw money from their bank accounts whenever they wish. So, everyone---the driver, the promoter, and the rider---stand to benefit.
Wallet promotions - Sponsors of e-wallets often have promotions going on to promote their services and convert customers. The benefits offered through such promotions can involve offers, cashback, and discounts. On a similar note, taxi-booking apps also offer regular promotions. Sometimes, they offer special incentives for paying fares through e-wallets. These cashback offers are only valid on wallet payments. They can be used to the advantage of both the wallet sponsor as well as the taxi app business, which ensures mutual business understanding.
Prompt settlements - It is not uncommon to come across disputes regarding the payment of fares between riders and drivers. There may be delays or lower payments than expected. Disputes between drivers and riders may be avoided with e-wallet payments. This makes everything far more simple and grievance redressal is also made prompt.
P2P Transfers - With e-wallets, one person can pay the taxi fare of another with ease, without the need for locational proximity. This can be done through an app feature or by simply transferring the funds.
Digital wallets are definitely the way forward as a method of exchanging money. In comparative terms, it is simpler to integrate e-wallet as a payment method for your app or store rather than accepting transaction modes like internet banking or credit card payment. Such integration will enhance the ease of making multiple transactions over a short period of time. Faster businesses that can adopt digital wallets in a widespread way will flourish quicker.
Author's Bio

Nitin Lahoti is the domain expert of Logistics and Transportation. He has 12+ years of experience in Design, Business Development and Startups. His expertise is in Product Ideation, UX/UI design, Startup consulting and mentoring. He prefers business readings and loves traveling.