The global logistics industry has evolved into one of the world's largest and most important industries. The revenues are projected to touch US$ 15.5 trillion by the year 2023, and the industry is expected to grow with a CAGR of 7.5% up till 2024. Its ever-growing significance could be attributed to the fact that it is the industry which keeps other industries afloat. In the absence of a well organized and efficient logistics and transportation industry, it would be borderline impossible for other industries to grow at the pace that they are currently growing at.
Logistics has tremendous utility and significance in some of the world's leading industries such as e-commerce, automobiles, pharmaceuticals, chemicals, manufacturing, retail, telecommunication, financial services etc. Their orderly functioning is dependent on the effectiveness of logistical processes employed in their regular operations. The vitality of a functional and effective logistics industry for global trade activities is undeniable.
Current Problems in the Logistics Market and How Logistics Apps Could Solve Them
Trucks ferry about 71% of total freight in America and the trucking industry brought in 81.5% of the country's total freight revenue in 2016. However, despite its overwhelming impact on the fortunes of the American economy, and its centrality in the global logistics market, the trucking industry is plagued with challenges.
The 'Empty Miles' Problem

The greatest challenge the trucking industry faces is the 'empty miles problem'. A truck that drives empty miles (sans any cargo) proves to be a costly affair for even the large freight companies. In the USA, for example, all the trucks in the country together travel about 50 billion empty miles annually. A truck's empty mileage, on an average, could go up to 28% of its total mileage. When you factor in the approximate average operating cost of a truck at $1.38 per mile, the losses faced by the trucking industry become apparent.

Repositioning of Trucks

Repositioning an empty truck is not inexpensive either. The industry spends about $16 billion every year for repositioning such trucks.

Omnipresent Middlemen

Another major setback for trucking companies is the massive presence of middlemen in the industry. Shippers need to take the help of freight brokers for moving their freight. However, these middlemen charge hefty amounts as commission for their services.

Lack of Transparency and Communication

The processes of the industry are largely opaque which does not bode well for the logistics market as a whole. There is an appalling lack of communication between shippers and trucking companies and that has led to the fragmentation of the industry.
The Solution
Technology to the Rescue

The solution to this problem of middlemen, and also to the empty miles problem to a certain extent, could be found through technology; particularly through the concept of 'digital freight matching' and logistics apps.

Elimination of Middlemen

A logistics app, akin to Uber for trucking, could help create a platform for communication and transaction between the carriers and the shippers. Just like Uber established a direct connection between drivers and passengers, a trucking or a logistics app could facilitate a direct dialogue and interaction between shippers and truckers; thereby eliminating the middlemen.

Goodbye Hidden Costs

The elimination of middlemen would also increase the transparency through logistical processes and networks. Hidden costs and exorbitant commissions would become a thing of the past.

A Solution to the Empty Miles Problem

Truckers would spend less time traveling empty because shipments could be booked much more efficiently. The empty miles problem would be resolved to a large extent.
How Are Trucking Apps Modeled?
Apps that are designed, developed and put into operation as 'Uber for Trucking' apps are modeled very differently when compared to other transportation apps. The app developers thus bear a lot of responsibility in the logistics app development process. Their role is to establish partnerships and build relationships that will help expand the network of the carriers available at your disposal. You will need to garner information from each one of your drivers pertaining to the size and type of their vehicle, their real-time location, insurance information, etc., to make the app work and make the delivery process smoother.
The complexity involved in modeling such an app arises from the fact that while the core idea of on-demand, real-time matching of a driver to a customer is retained, the driver in the case of a logistics app is a package carrier. Hence, unlike in the case of other transportation apps where distance traveled is the primary and sometimes the only consideration for determining prices, a logistics app has to consider the size and weight of the package that is to be delivered. Also, it has to evaluate a host of other variables that come into play in the logistics industry.
You could consider splitting up the app in 2 halves - the customers' app and the drivers' app. The app has to be modeled as a digital marketplace where your clients could post jobs along with all the relevant details on the customers' app; all of which are then passed on to the drivers through the drivers' app.
Apps built along the lines of the Uber trucking app are focused around carriers. These carriers are algorithmically selected for a work opportunity on the app which they may accept or reject on their own free will. Your app cuts down the waiting time and reduces the paperwork involved in the logistics industry. Your app also ensures that drivers get paid for their work within the stipulated time. These well thought out and evidently beneficial terms are what that will attract truck drivers to your logistics app.
Though the drivers are the focal point of your app, you must ensure that you only have reliable carriers on your app in order to attract shippers. One way of doing it is by making your app 'legitimate'. Before you get going with the app development process, screen your drivers and conduct a thorough inspection of their vehicles to ensure that both of them are in a healthy and functional state. Making a call to their previous clients would give you a fair idea about their reputation and their track record. You could eventually create a database of genuinely reliable online carriers to ensure that illegal carriers are filtered out and are restricted from using your app.
Take the example of Cargomatic, who handpick their carriers and provide hands-on training during their onboarding process and only accept drivers with a valid authority. The entire process would seem a little cumbersome but it will do wonders for the reputation of your app because reliability attracts shippers.
Key Features That Fleet Managers Need for a Comprehensive Solution
Your fleet manager would need a solution which meets the basic needs of a modern day logistics service. The service must transport consignments from their pick-up location to the requested delivery site within the prescribed time and in a safe and secure manner. More importantly, it needs to provide fleet managers with the option of 'real-time tracking' of the consignment which keeps the fleet manager updated about the status of the delivery. The tracking must also allow managers and drivers to divert routes as and when required in order to deal with a traffic pile-up and take the most time-efficient and cost-effective route to the destination. Such a comprehensive fleet management solution must ideally be equipped with the features listed below.
GPS and Asset Tracking

A GPS helps drivers navigate through the route, it assists fleet managers to track the carrier and enables both of them to work together to take the packages to their destination. It plays a crucial role in ensuring safe operation of the fleet.

Asset tracking is concerned with tracking a detachable trailer, a consignment or the whole truck itself. This feature is achieved through telematics whereby a GPS transmits the location of the tracked item to the system. In modern fleets, where clients ask for regular updates about the position of their consignments, asset tracking is mandatory.

Geo-fencing

Geo-fencing is particularly useful for vehicles operating on a particular route. The system provides alerts when the vehicle crosses threshold locations or nears a checkpoint.

Geo fencing also assists fleet managers in planning the trips. When a vehicle needs to be dispatched for a trip, factors such as the time of arrival, the truck's load carrying capacity, engine performance statistics, driver availability, runtime, etc. are all considered while planning the routes. Geofencing provides the manager with all this information in a simple interface.

Traffic Updates for Route Optimization

Periodic traffic updates help managers in planning the routes and selecting the optimal routes for consignment deliveries. Route information enables fleet managers and drivers to make alternative arrangements in the event of a contingency. Event-driven updates could also be triggered to keep the manager informed about the movement.

Machine to Machine (M2M) Communication

M2M communication has allowed automotive manufacturers to monitor the health of the machine remotely. Fleet managers too require updated information pertaining to the vehicle's condition, and the vehicle's maintenance schedule. This feature provides this very information to the managers, which helps them keep the vehicles in good shape without affecting the operations.

Vehicle Handling Characteristics

A strong fleet management system must provide information about the manner in which a particular vehicle is driven. The way a vehicle is handled has an impact on the condition and safety of both the vehicle and the consignments. Information about vehicle handling characteristics would prove to be extremely useful for preventing accidents, identifying errant drivers and issuing warnings to them.
The Most Popular Technology Stacks for Various Features and Functions of Logistics Apps
When you think of technology stacks that would be the right fit for logistics apps, the number of options you have are limitless. Different features and functions require different technology stacks that have emerged as the most popular among their ilk.
For an iOS app, you can pick either of Objective-C or Swift as the programming language. While Objective-C provides object-oriented capabilities and a highly dynamic runtime environment, Swift is believed to be less error-prone. Swift's features also reduce the size of your app which helps improve both its performance and speed.
When you choose Swift as your programming language, using the Apple Xcode toolkit allows you to create native mobile apps and add life to desktop apps.
For an Android app, Java and Kotlin are the most popular coding languages. Java has been in use for years but the stability that Kotlin brings has attracted many developers towards it. It is clean and extremely lightweight.
Android Studio toolkit provides debugging tools and an instant 'build-and-deploy' system to the developers. Unique and user-friendly apps are easily developed using this toolkit. Alternatively, developers could opt to use Android Developer toolkit on account of the high degree of customization that it offers.
Twilio is ideal for triggering notifications and when you need to authenticate credentials for login. Nexmo is also a handy option for the latter purpose.
Integration of a payment gateway is crucial for facilitating instant payments for your drivers. Braintree, Stripe or an e-wallet would be apt for this purpose.
Your logistics app would have database requirements and database programs such as MongoDB, HBase and Cassandra would be your go-to options for fulfilling those requirements.
If you are intended on making your solutions work on a cloud-based platform, look no further than AWS, Google Cloud Services or Microsoft Azure.
Cisco, IBM, and Big Data would help with all your real-time analytics
Cost of Developing a Logistics App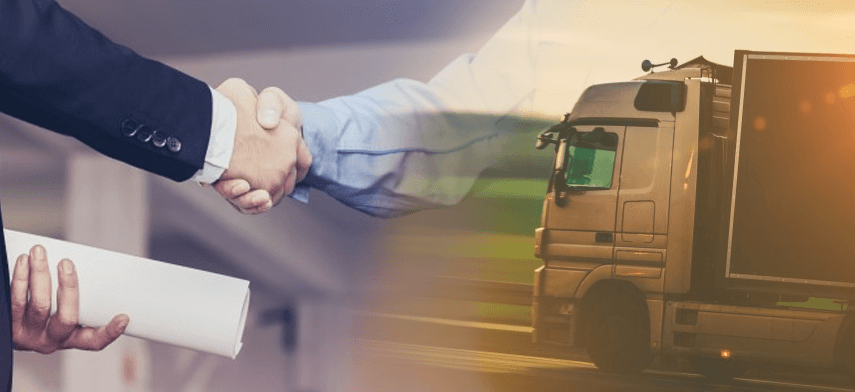 The cost of logistics app development varies widely depending upon a plethora of different factors. What are the features you wish to integrate in your app? What platforms do you want to host the app on? Are you looking for an advanced app? It would be improbable to give an accurate estimate of the app development cost before these questions are answered. Besides, the cost also depends heavily upon the location of your web developers. However, the solution implementation cost will be around $10,000-$30,000 for an average logistics app on a single platform.
An Uber-like app for trucking, which introduces the logistics industry with an on-demand business model, would indeed make transportation and delivery services a lot easier to manage and a lot more efficient. The market is craving for such businesses. Besides, you don't need to possess the kind of financial strength that other large on-demand service businesses have. But what you need to have are the services of a competent and experienced logistics app development team to make your foray into the business a rousing success. Get in touch with us to discuss your idea for your Uber for trucking app and allow us to help you build a sturdy, functional and user-friendly logistics app for your business.
Author's Bio

Nitin Lahoti is the domain expert of Logistics and Transportation. He has 12+ years of experience in Design, Business Development and Startups. His expertise is in Product Ideation, UX/UI design, Startup consulting and mentoring. He prefers business readings and loves traveling.