Being one of the largest industries in the world, the transportation and logistics industry is considered as a key element of the supply chain. It is involved with the movement of products and raw items from one destination to another. The entire procedure starts with the supply chain to the shipping of the finished product to the consumer. People rely on transportation because it moves products and people from one place to another. That is why the demand of transportation never decreases. Moreover, nowadays the demand to transport assets in a quicker, safer, and cheaper way is skyrocketing than ever before. And to meet such demand with perfection, you may face several issues. Thanks to Radio Frequency Identification (RFID), you can reduce the errors, solve issues and improve efficiency in the whole process of transportation and logistics management.
RFID in transportation, especially in the trucking industry has been proved to be a valuable asset. From cargo tracking to systemizing fleet operations or streamlining ground support apparatus to automating yard management, the expenditure of inefficiencies caused by a lack of visibility are considerable. Today, leading names in the transport industry, that have their own fleet transport or truck apps, started depending on RFID technology to bring accuracy in shipping and inventory management, make the order processing faster, and reduce labor costs. With noteworthy improvements in visibility throughout the supply chain, the benefits of an RFID system in this industry is proving to be significant for many companies.
If you are interested in making your logistics and supply chain management operations smooth, accurate, affordable and hassle-free, today's post will be useful for you. This post will shed light on the topic of what RFID actually is and how many types of RFID are there. If you go through the post, you will also get to know why this technology is relevant for managing assets and tracking in the transportation industry and it is a must-have feature for your next fleet transport or trucking app.
So, without further ado, let's start the discussion.
RFID Solution for Transport & Logistics Industry - In A Nutshell
RFID is the use of radio waves to store data and retrieve it. The RFID tags have unique identifiers that are correspondent to inventory database records. Certain information related to an item is stored on an RFID tag and this tag stays attached to the item. Similar to a bar code, this tag is a carrier of information. But unlike bar code that carries data in a visible symbol and can be read by a barcode scanner utilizing optical or infrared wavelengths, an RFID tag carries data programmed into a microchip and gets activated by radio frequencies emitted from an RFID reader. This data can be utilized within and between companies and partners safely via a certain network.
The adoption of RFID in transportation and logistics management operations increases sustainability in freight flows and decreases logistics cost. The solution is available for maintaining assets, managing yard (cross-docking applications), dispatching, picking up and delivering, automating salesforce and making freight more secure than ever before. With the help of this technology, logistics companies become capable of accessing more accurate and timely data to manage their assets, including the transport vehicle.
To sum up, RFID has various applications in transportation operations. Let's have a look at how many types of RFID applications are widely popular:
Key Kinds of RFID Applications
Vehicle tracking
Asset management and tracking
Tool tracking
Document tracking
Attendee tracking and movement management
Security
Logistics and supply chain visibility
Location access control
Goods level inventory or stock tracking
After having brief knowledge of the various applications of RFID in transport and logistics management, it is quite clear that the industry is gaining great advantages from this cutting-edge technology.
Major Advantages of RFID in Logistics Solution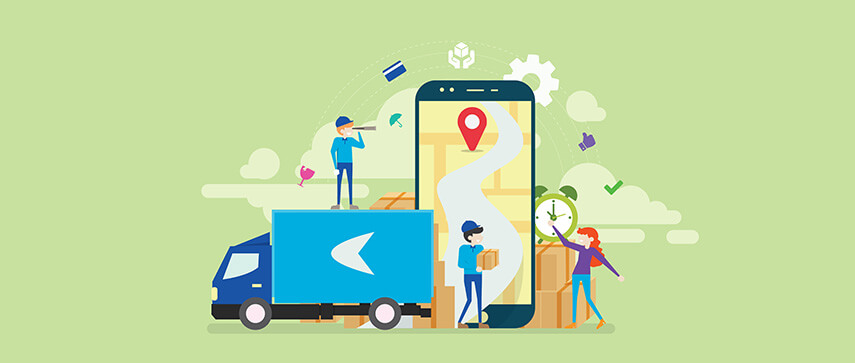 Quick Delivery of Information through Wireless Scanning

RFID tags deliver information very quickly. It operates via wireless scanning. Therefore, all you need to do is point the scanner at a box of goods and register each one without taking them out first. RFID powered scanner can create a record of an entire room of your warehouse at once, making inventory tracking a much rapid process than ever.

Efficient Tracking Method

RFID tags offer the most effective tracking facility. You can place an individual identifier on every item and follow the items individually through the logistic chain. Also, you can track a defective item and put it back to its source in an easier manner than other traditional tracking methods. Furthermore, if the assets have RFID tags on them, even when they get stolen or misplaced or are at places that are hard to find, you can easily track them at the time of need.

Access to Real-time Updates

With RFID tags, you get the integration with wireless communication and real-time inventory management systems. Thus you can search the database whenever you need and find out the exact quantity of goods in your storehouse. You can also scan crates whenever they enter and leave the warehouse to get real-time updates of your inventory totals that you can spread to other users across the company network.

Decrease in Cost

RFID solution in transport business reduces labor and inventory carrying costs and make the process of loading, tracking, and delivery of cargo efficient. Also, as the availability of fleet by parts improves to support scheduled and preventive maintenance, the overall fleet maintenance cost gets minimized.

To sum up, the RFID solution for your transport business plays an important role in managing assets properly. By enhancing the speed, quality and accuracy of the data that accompanies each package, pallet or container having RFID tags, this technology solution improves responsiveness and efficiency as well as minimizes operating costs and meets unique needs. You get complete assistance in compliance, fleet management, delivery management, and operating efficiency maintenance. So, by investing in RFID solution you make your customer service better and get great ROI.
The Emerging Future of RFID
Successful applications of RFID have made this a proven technology, adding great value to the transportation and logistics management system. Throughout the world, many companies (namely General Steel, Inditex, BJC HealthCare) are using RFID for supply chain management. Other than tracking assets, RFID helps instill quality control in the process of transportation and logistics. For example, RFID has some useful features that can help trucking business saves a lot in fuel costs with tags placed inside gas tanks automatically recording the amount of fuel and charging the transaction to the system. Because of this, there is no need for drivers to carry cash or cards. It also decreases the possibility of robbery and theft. Undoubtedly, in the near future, these wide usages of RFID in transportation business will increase and improve the ROI rate of the companies.
A Final Thought,
Throughout the transportation industry, RFID technology is eradicating the manual and outdated systems of the past. It is certainly here to stay and because of this, a new generation of fresh-minded workers is coming into the industry. By having a comprehensive knowledge of this technology and how it is beneficial for the industry, nowadays shippers and logistics service providers are positioned to expand their operations without feeling the need of investing massively to increase workers, fleet, and procedures. And this goes back to making the speed and accuracy of each order better, at every single time.
Author's Bio

Nitin Lahoti is the domain expert of Logistics and Transportation. He has 12+ years of experience in Design, Business Development and Startups. His expertise is in Product Ideation, UX/UI design, Startup consulting and mentoring. He prefers business readings and loves traveling.