The American trucking industry is one of the largest in the world delivering 10.77 billion of cargo in 2017. The industry seems promising, generating $700.3 billion in 2017, representing a growth of 3.5% compared to the previous year. But as it turns out, all is not smooth with the trucking industry with several challenges making an impact on its growth and employability.
The Challenges Faced by Truck Drivers
The statistics would make anyone believe that the trucking industry is great for employment, but the truck drivers often disagree. The USA is facing a serious shortage of truck drivers and needs approximately 100,000 more drivers to fill in the positions. Else, the driver shortage could triple by 2026!
High Turnover Rate

One of the main reason for the driver shortage is the high turnover rate which was around 90% in 2018. On top of that, most of the drivers are aging, and the young pool of drivers are still untapped by the industry.

Less Pay

Drivers also face several other challenges which make their lives difficult. Even though carriers promise high pay and incentives, the final settlement often is considerably less in reality. Commissions paid to brokers and middlemen also reduce the final payment of the drivers. The drivers also need to wait 60 to 90 days just to get their payment which makes life difficult for them.

Living a Life Outdoors

On top of all this, they have to spend months away from home leading an unhealthy lifestyle on the road. Revenues are also affected as many trucks ply at less than maximum capacity which also adds to unnecessary trips and traffic congestions.

Also, mandates like ELD is also making drivers lives difficult.

Is there a way to solve the challenges of the trucking industry and make it favorable for the drivers?

A new technology called load trucking comes with strong promise to resolve the challenges of the trucking industry. Based on digital freight matching, the technology can help drivers find work and meet regulatory compliances while ensuring proper pay.
What is Load Trucking Technology?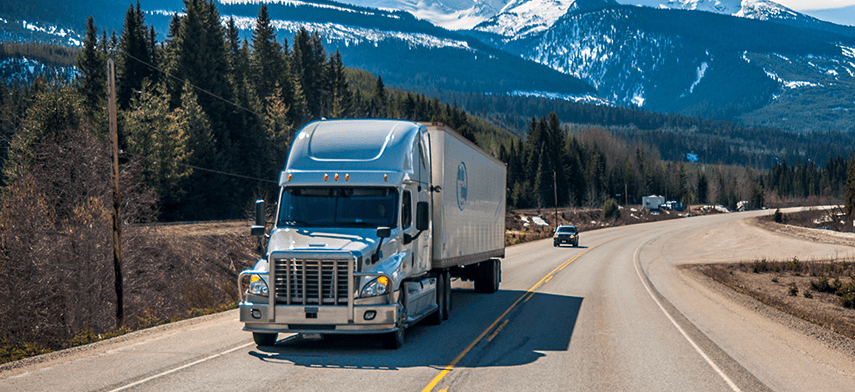 Digital freight matching can be called Uber for trucking industry. Just like Uber uses an app to connect drivers and passengers, trucking loads solutions can match truck drivers and shippers or carriers.
The load trucking apps eliminate the middlemen from the supply chain of matching truckloads. Companies looking to ship their products can use the apps to match a vehicle's load capacity and connect with independent truckers and shippers ready to provide service.
Load trucking apps hold the potential to solve many of the challenges faced by truck drivers and the industry. Let's find out how!
How Can Load Matching Technology Help Drivers?
Load matching technology offers a platform to connect truck drivers looking for work and companies looking to ship their goods. In doing so, it can-
Help Truck Drivers Find Work Easily

As a truck driver, you can use load trucking apps to directly search for carriers and logistics companies. Drivers can access various details like destination, the volume of trucking loads, necessary equipment and other details to help them choose the best offer.

They also have the freedom to choose the routes they want and may opt for deliveries closer to home. Drivers don't need to contact brokers and can choose projects based on their preference.

Resolve Driver Shortage

Load trucking apps can help tap into the pool of 350,000 independent truck operators who don't prefer to go into long-term contracts. Young truck drivers and millennials are also tech-savvy and prefer to use technology to perform their duties.

Trucking apps enable them to work on their own terms and bring in more drivers to the industry to address the truck driver shortage.

Enable Drivers to Get Paid on Time

Uber for trucking industry helps drivers get paid right after a project is complete, just like an Uber driver gets paid at the end of the trip. The process eliminates the long waiting times that drivers had to face when working with brokers and middlemen.

This can help tackle the challenge of low salaries and enable the drivers to lead their life without worrying about collecting payments all the time. Digital freight matching apps can also be tailored to process payments, allowing the drivers to receive their payments through the app and other conventional methods.

Drivers can also save the money paid to brokers, and keep the whole profit to themselves!

Ensure Optimum Load Capacity

Many trucks operate with less capacity than they can manage. This makes a direct impact on their earnings and increases the number of unnecessary trips generating fewer revenues.

Load trucking apps can ensure that trucks run on full loads so that they can make optimum use of capacity. Drivers can earn more, make fewer trips and reduce congestion on the roads. It also helps to reduce pollution as each trip is optimized to make full use of truck capacity.

Digital freight matching has the potential to solve the current challenges of the trucking industry but should have some essential elements to achieve its goals successfully.
Critical Requirements in Load Matching Solution
A load trucking app comes with many features to make driver's ad shipper's life easy. Some of the essential requirements include-
Intelligent Freight Matching

Traditionally, shippers had to go through a number of phone calls, emails and follow-ups to determine capacity. The carriers have to manually provide their details which increases risks of errors and information which is not up-to-date.

Reliable digital freight matching solutions open the doors to verified data, which forms the backbone of intelligent load matching. The app should provide required information like career strength, available capacity, commodity expertise, and geographical areas served.

The data forms the basis of automated load matching which helps both shippers and drivers.

Automated Job Requests

Drivers should get requests for new jobs directly from the app based on their preferences and location. They should be able to access new load pickup and drop requests with all necessary details that help them perform the delivery efficiently.

Such information can include the location of goods pickup, destination, the weight of goods, delivery timeline and more. The details can be provided to the driver once he has accepted the job.

Data Security

Data privacy and data security are top concerns irrespective of the nature of business or industry. Load trucking apps enable shippers to access a wide range of data about the drivers and carriers. On the other hand, drivers can also get access to shipment details, payments, and other information.

The digital freight matching app should have strong encryption and security protocols so that data can be exchanged without any risks or concerns. This shouldn't be a problem, as we have reached a stage where technology can ensure privacy and security of data in case of sensitive apps like banking, e-commerce and more.

Billing and Invoices

The load trucking apps should make the driver's life easy by allowing to create bills or invoices to be sent to shippers. The process can be automated with bills being sent to shippers once delivery is completed.

The drivers should also be able to access their earnings history while shippers can keep track of all the payments made through the app.
List of Popular Freight Matching Apps You Need to Know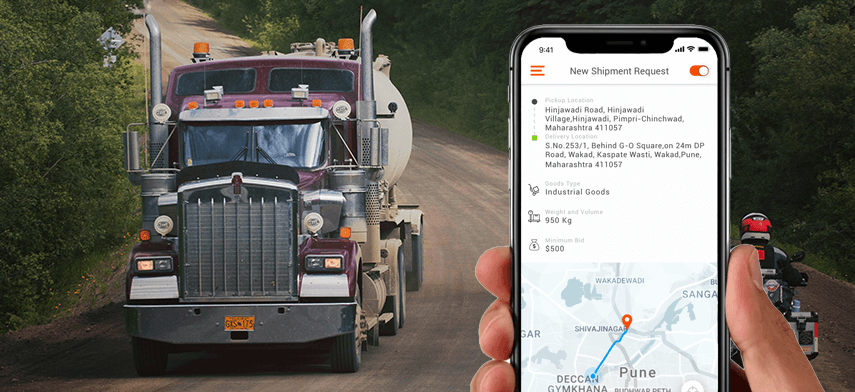 Many companies have already released their digital freight matching apps. The freight matching industry has generated venture capital investments of $180 million which is steadily growing as more companies join the competition.
Here are some popular load trucking apps you should know about-
Uber Freight

Uber Freight is the Uber for trucking industry. Launched in 2017, the platform matches truck drivers with companies looking to ship their cargo. Drivers can provide their preferences (short-haul or long-haul) on the app and get notifications when a shipper posts a job matching their preferences.

The app also has a cool feature called Reloads, which shows jobs located near the delivery destination the driver is headed to.

Convoy

Convoy aims to create a shipping industry which makes full use of truck capacity that results in zero waste. The company has a wide range of truckers and shippers and uses technology to match loads and create smarter routes to speed up delivery.

Drivers can sign up for free and start looking for jobs in a matter of minutes!

Transfix

Transfix is an online freight platform that utilizes algorithms and machine learning to offer truckers better routes. Shippers can also use the solution to access a large base of truckers and get the best price.

Drivers and carriers can join the network to browse from a wide range of jobs and look forward to getting paid on time. The company earned $100 million in shipping charges and transferred the major share to vehicle owners.

Cargomatic

Cargomatic is a California-based company that focuses on local shipping jobs. The service is currently available in New York, Houston, Seattle, Chicago, Los Angeles, and Dallas while they plan to expand to other cities in the future.

The load trucking app gives shippers instant access to trucks with GPS tracking and instant proof of delivery. Carriers can expect extra shipments and increase their earnings with quick payments for extra satisfaction.

TugForce

TigForce is aimed at owner-operators truck drivers and small fleet companies. Drivers can sign up on the load trucking platform and become visible to shippers looking to deliver their goods. Shippers can also join the platform and bid on jobs that involve local and interstate shipping projects.

The service was launched in 2016 and integrates patent-pending technologies.

Cargo Chief

Cargo Chief makes logistics efficient and speedy by connecting carriers with 3PLs. It helps carriers companies to find and book loads faster, enhance their fleet production and gain competitive advantage.

3PLs can find carriers with suitable capacities and increase their productivity while reducing transaction costs. The platform relies on data to analyze demand and supply and create the best possible business relationships.

LaneHoney

LaneHoney aims to create a transparent marketplace for shippers and carriers. The solution uses market data and eliminates transaction friction to enable shippers to save money and carriers to earn more.

Shippers can choose different types of vehicles like dry vans, flatbeds and climate-controlled trucks depending on their needs using the app or website. Carriers can browse the best paying loads and other shipment information to effectively negotiate rates and terms.
Digital Freight Matching is the Future of Logistics
Load trucking platforms are going to revolutionize the logistics and trucking industry just like Uber and Lyft did for cab booking and ride sharing. The platforms enable shippers to find the right vehicle and fleet to deliver their goods. Truck drivers can manage their working hours, choose the best routes and have direct control over their earnings.
The solutions also ensure that trucks operate at full capacity, cutting down waste and ensuring optimal utilization of truck capacity.
Take a leaf out of the future, and invest in a trucking app before others do. Come, be the early bird and reap the benefits.
Author's Bio

Nitin Lahoti is the domain expert of Logistics and Transportation. He has 12+ years of experience in Design, Business Development and Startups. His expertise is in Product Ideation, UX/UI design, Startup consulting and mentoring. He prefers business readings and loves traveling.