Chatbots have emerged as one of the main tools to ease communication and management for businesses of all sizes. In fact, 85% of all customer interactions are going to be handled without any human involvement by 2020.
Out of many industries leveraging chatbots, the logistics and supply chain business has also found ample use of the technology. Today, we will explore how chatbots in logistics help supply chain and transportation companies to offer a better service and customer experience.
How Chatbots can Impact Logistics and Transportation
A chatbot can help a logistics company in two ways-
Improving customer-facing operations, and

Supply chain operations
Chatbots in Customer-Facing Logistic Operations
Chatbots go a long way to ensure optimum customer service. Here the role of transportation chatbots is just like in any other industry. Let's see how chatbots in logistics help you serve your customers better-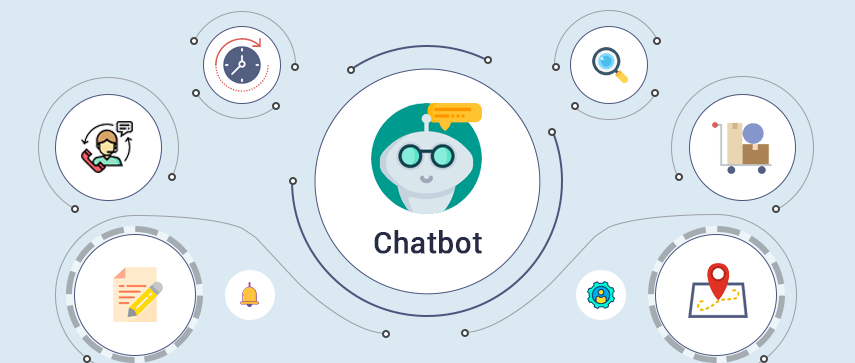 Request a Delivery


Customers can directly converse with chatbots to place an order. The chatbot can handle necessary order details like pickup and delivery location, dates, rates, insurance and more just like a human agent. It can also process orders and send an invoice directly to the customer's inbox or email.

Amend an Order


Customers can make changes to their orders in the same way they place an order with the chatbot. The tool may also be able to pull in tracking numbers based on past conversations and apply special conditions if necessary. This, too, can be done without any human involvement.

Track a Shipment


Chatbots make tracking easy and simple! Customers don't need to full up tracking numbers in online forms each time to know the status of their delivery. They can just talk to the logistics chatbot and get help with all tracking issues.

Customers can also use the same interface every time, be it Facebook, Skype, or company website. The chatbot will remember all their details to provide a context-based service.

Get Answers to Common Questions


You can set up your transportation chatbot to act as a FAQ resolver. The bot can give pre-programmed answers to common questions your customers may have regarding rates, weight limits, delivery times and so on. Your customers can save time and don't need to browse through unnecessary information.

Get Delivery Notifications


You can use your logistics chatbot to send delivery notifications and updates to your customers. The process makes it easy for your customers to revert back or ask questions in the same interface they receive the notification- in a quick and hassle-free manner.
Chatbots In Supply Chain Operations
Chatbots in logistics operations can contribute a lot towards a seamless flow of information. The data collected and required for everyday operations can be quickly accessed by employees through a chatbot. A logistics company may use chatbots to handle various forms of data like-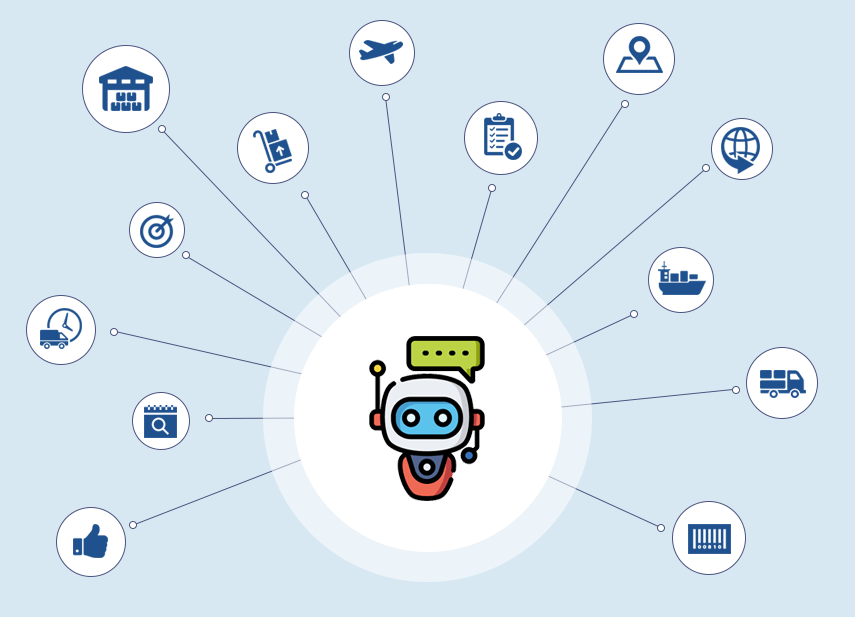 Customer Orders


You can access and review customer orders using chatbots. You will have all the orders which customers place through chatbots and can also link it with data from other sources. Logistics chatbots help you to handle all data related to customer orders in real-time.

Warehouse Matters


AI chatbots in logistics can make inventory management and warehouse operations a breeze. Does a delivery boy needs to find a particular package stored among a thousand others? Just ask your chatbot where the package is kept- and you receive the exact rack number as the answer!

Fleet Information


Companies use transportation apps to track their vehicles, their routes, status and more. Knowing where your drivers are is crucial to manage orders and delivery routes. You can ask your chatbot to tell you which vehicles are idle, which one is closer to a pickup point and schedule duties effectively.

Personnel Information


You can also track the status and availability of your drivers, staff and other personnel using apps. And then link it with your chatbot to get quick answers without having to browse sets of data.
Transportation chatbots get your operations a boost and make your whole team more productive.
Logistics Chatbot Integrations with Other Technologies
You can integrate AI chatbots in logistics with other technologies to streamline your workflow and leverage operations. Some of the technologies you can integrate transportation chatbot with are-
Internet-of-Things (IoT)


Connected devices have already become a rage in the logistics and transportation industry. Key players are have started using connected devices such as sensors, meters, counters to measure warehouse temperature, humidity, inventory, out-of-stock items and more.

You can now integrate chatbots in logistics with IoT to streamline the flow of warehouse management information. For example, a chatbot linked with humidity sensors can automatically send information to managers when the humidity levels in the warehouse cross or fall below the required standards.

You can also use transportation chatbots to notify managers about shipment arrivals, the weight of goods, missing items and so on.

Voice Recognition


Voice recognition, paired with logistics chatbot, can do wonders! You can easily establish voice as the channel of communication for employees who cannot reach for their mobiles or laptops. Chatbots with voice recognition can also go a long way to answer common questions of your customers.

The integration also makes handling operations easier. Your forklift operator or driver may follow voice commands to navigate the warehouse and the roads without having to look at floor plans or the map. In case they have any apprehension, they can always talk to the chatbot to resolve queries and do their job effectively.

Big Data


Chatbots in logistics serve as a crucial source of data. You don't need to make an extra effort as the chatbots collect and store all conversations with customers, suppliers, managers, personnel and drivers.

You can then run analytics on the huge database of data to uncover meaningful insights and trends. Based on those insights, you can leverage your operations, refine promotional campaigns and even measure the effectiveness of communication channels.
You can also provide great customer service by developing strong customer insight based on the data collected by your transportation chatbots.
Advantages Of Chatbots For Logistics Companies
Wondering about the benefits of chatbots in logistics? Read on-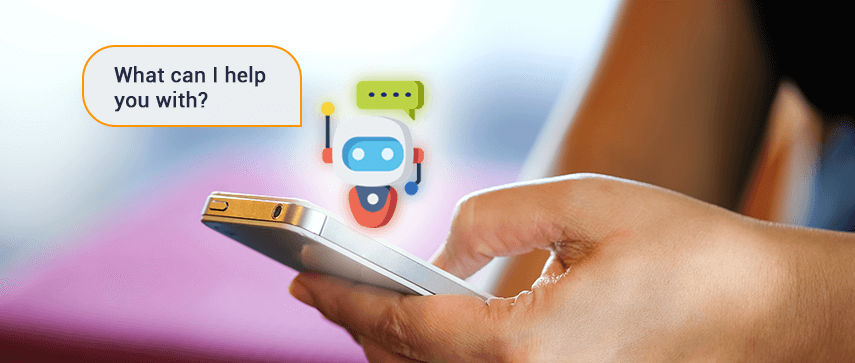 1

Reduced Costs

You can save up to 30% on your customer support cost using chatbots in logistics. The technology can answer 80% of routine questions and resolves customer queries quickly. You don't need to pay for any human labor and can automate a big part of your customer service. All you are paying for is your internet fees to run the chatbot.

Many companies cite cost reduction as one of the biggest benefits of transportation chatbots.
2

Increased Availability For Customers

A human agent has to eat, sleep and take a long break between shifts. You also have to give him weekends off, national holidays and even accommodate sick leaves. A robot or AI-powered chatbot doesn't come with such limitations.

You can offer 24/7 support, ensuring better availability for your customers. It's a win-win situation for everyone as customers have their queries resolves and you have onboard a loyal customer ready to spend more and come back often.

Customers also like chatbots and 95% believe customer service will be the main beneficiary of chatbots.
3

Optimized Time Management

Chatbots in logistics can streamline workflow and enable a seamless flow of information. Having a central database linked with chatbots serves as an instant portal for employees to access any information. You also have all data in the form of a chat that you can scroll up and down as you please.

The result is considerable time savings which can be spent for productive purposes like getting new orders and growing your business.
4

Better Workflow

Chatbots powered by AI can leverage human intelligence to act as virtual assistants. You can also empower chatbots with voice recognition, machine learning, and natural language processing (NLP). The result?

A contextually aware, personal assistant which can learn about real-world factors and work preferences. You can then use the chatbot to enhance your workflow in real-time.

Chatbots also save a lot of back-and-forth communication between employees. Collaboration becomes easy and various departments can coordinate together to accomplish tasks.

You can also get improved workflow by automating various tasks like customer service.
5

Sending More Effective Messages

Being a communication tool, chatbots are best used for sending messages to employees and customers. You can also make messaging more effective by making it engaging using the conversational skills of transportation chatbots. So a chatbot may say "Sorry! Your delivery is delayed by 5 hours. We regret the inconvenience" more effectively than just bluntly sending a text or push notification.

The same is applicable for employees where chatbots are great for notifying about important changes that demand their attention.
6

Real-Time Information & Tracking

You can use your transportation chatbot to provide real-time information to your customers and drivers. The bots can load GPS maps, send pictures of order content, deliver live status of vehicles and more. If the customer wants some general information, then the chatbot can direct him to guide videos or your website.

In short, you can program your chatbot to deliver any information, even in real-time.
Wrapping Up
Chatbot in logistics is a new trend that is fast catching up with key players in the industry. Various companies like UPS have already started their chatbot service. Many small businesses are also moving to chatbots for cost savings, convenience and streamlined workflow. If you are a logistics company or deal with the supply chain, a chatbot can be your way towards a more productive future.
Author's Bio

Nitin Lahoti is the domain expert of Logistics and Transportation. He has 12+ years of experience in Design, Business Development and Startups. His expertise is in Product Ideation, UX/UI design, Startup consulting and mentoring. He prefers business readings and loves traveling.