Last mile delivery has become the top focus of online retailers and logistics companies. Last mile logistics refer to the final step in the delivery process where goods are shipped from a facility or distribution center to the end user or customer.
The final destination of last mile delivery is often a personal address though the distance can range from a few blocks to 100 miles. Often the last step in the delivery process involves the transport of small packages. Sometimes it also covers products which require assembly or setup in a residence or office.
Last mile delivery has turned out to be a crucial aspect of supply chain management with the rise of e-commerce sales and demand for omnichannel retailing. The goal of last mile delivery is to deliver more products to the customer in a timely manner in a cost-effective way.
Retailers can generate customer loyalty and differentiate themselves from the competition by focusing on last mile logistics. Currently, the parcel shipment market is valued at $83 billion and expected to double in ten years with the growth of the e-commerce industry.
Challenges Faced by Logistic Companies in Last Mile Delivery
Logistics companies face a number of challenges in last mile delivery including customer demands, shortage of drivers, urban traffic conditions to legislation and increasing fuel prices.
Customers today have increased expectations and are even ready to pay for services such as same day shipping. The products have to be delivered when they want in their preferred location. Customers also want visibility of the process and expect updates of delivery status. The customer nuances often become difficult for transport companies to manage.
Urban delivery often becomes difficult as drivers have to navigate the traffic and parking regulations. The increased cost of last mile delivery is another challenge in logistics management and includes expenses such as fuel costs.
The cost is of concern as it is tied to a single parcel in the case of last mile logistics. Sometimes the poor transportation infrastructure of a country also translate to longer journeys and increased wait times with inefficient routes.
The nature of goods in last mile delivery also forms challenges when they include fragile, flammable or toxic goods.
The Solution
Logistics companies can take a number of steps to address the challenges. They should make an effort to understand the customer and his preferences to meet his demands. The companies should always keep the customer in the loop and offer real-time visibility for his goods.
Optimization techniques enable retailers to work out the best routes which can save time and fuel costs. They can also increase the number of distribution centers so that the drivers don't have to cover long distances. The company can also use modern logistics solutions to streamline their processes and automate workflow.
Next, we will discuss some practical steps to optimize your last mile delivery process which will also help you tackle the challenges mentioned above.
Steps to Optimize Last Mile Delivery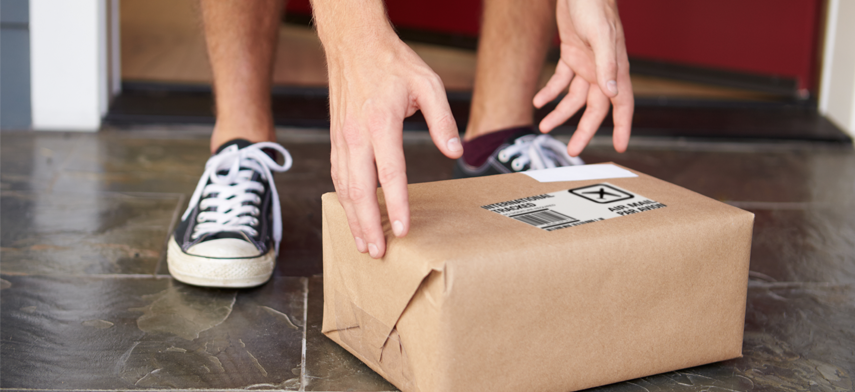 1
Start with a Plan
You are not going to make any progress unless you have a solid plan in place. Your last mile delivery plan should be comprehensive and well researched based on the ground realities of your company. It is as important as planning for your warehouse or plant operations and should include tools to benchmark the performance against your plan.
Just as a warehouse plan helps you utilize manpower and other resources optimally, your last mile plan will also help you to utilize the drivers and vehicles in the best way. Your planning should also consider the scale and nature of your deliveries to be effective.
2
Adopt a Comprehensive Logistics Solution
A delivery service that handles hundreds and thousands of parcels in a single day cannot survive without the help of technology. You should go for a hosted, on-demand logistics solution which will help you reduce cost and increase the efficiency of your last mile delivery.
Modern logistics management solutions factor in a wide range of metrics such as delivery destinations, traffic conditions, driver skills and more to automate and optimize delivery schedules.
Your drivers can get automated optimized routes which make delivery quicker and save costs. You will also be able to access all the orders from a single interface and assign them easily to the drivers.
Admins can track the movement of the goods once they leave the distribution center in real-time. They can monitor the performance of the driver, miles driven and idle time for the effective driver and vehicle management. The solution also keeps the customer in the loop and sends automated updates like ETAs and while giving him the ability to track delivery boys in real-time.
The solution can be scaled as the demand increases enabling your business to grow and provide an excellent last mile delivery.
3
Analyze Data Generated by Logistics Solution
Your logistics solution will give access to a wide range of data once you have a considerable level of operating history. Some solutions are also integrated with business intelligence and can generate important analytics related to your deliveries. You will also be able to use the reporting features to generate custom reports can gain an overview of your delivery operations.
Analysis of the data will help you to zero in on the delivery processes which are not aligned with the needs of your customers. You will also get to find out your best practices and areas where you need to improve. Assessing the data can help you figure out where you can save your costs too.
4
Set Standard Operating Procedures
Standards enable you to achieve a task in the most effective way and come up with plans to measure your performance. The most suitable delivery operations are those which let you establish engineering standards for every aspect of the delivery process. Use of historical data and data analysis will help you to identify and set up best practices relating to different aspects of delivery such as load times and service times.
No matter which standards you use, they should be measurable and realistic. They should also let you improve the performance of your processes or individuals.
5
Learn to Optimize Delivery Routes
Route planning is one of the main tasks to ensure the success of last mile delivery. You have to figure in many factors such as the distance of pickup and drop, the capacity of the vehicles, traffic congestions and so on. The goal of route optimization is to enable the drivers to deliver the goods efficiently in less time and cost.
The task is difficult but becomes easy with a logistics solution. The program automatically decides the best routes to take after considering traffic conditions, locations of drops, distance, vehicle types and other factors. The recommended routes ensure perfect schedule of each trip to fulfill all deliveries on time.
6
Manage Your Drivers
Many logistics companies make the mistake of managing only their vehicles while they overlook the drivers completely. Drivers are the backbone of an optimal delivery system and determine the success of the last mile logistics.
Drivers need to perform a number of tasks apart from driving. This includes vehicle inspections, loading activities- all of which impact the delivery time and efficiency. You should monitor the driver at every stage and set standards to improve their performance.
With a modern logistics software, you can track the driver performance including real-time locations, idle times and distance covered. You can find out where the drivers are lacking and take corrective measures.
7
Consider the Customer
Your delivery process needs to align itself with the needs and preferences of your customers. They may have special requests such as specific delivery times or locations where they will be available. Along with accommodating their requests, you also have to provide superior service to your customers.
The customer data in your logistics solution will help you to determine the best practices to improve your customer service levels. You should be able to understand the pain points of the customers in order to serve them effectively.
8
Keep Customers Informed
The customers in an on-demand economy always want to be in control. The same applies to deliveries, and you have to keep them updated about every aspect of the process. Logistics solutions make it easy for you as customers automatically receive status updates related to their delivery through SMS and email.
Customers can even track the locations of the delivery boys and receive an estimated time of arrival for greater convenience. It is necessary to provide full visibility of the delivery to the customers in order to survive in today's competition.
9
Proof of Delivery
You need to keep verifiable proof of deliveries, especially if you are dealing with a high volume of customers. This will enable you to have proof in case the customer claims he hasn't received the product.
Delivery boys can use a digital interface to collect the signature from the customer on their mobiles or tablets. They can also scan the barcode of the parcel before leaving the customer's location. All the information is synced with the main logistics solution and updated instantly on the central program.
10
Make Room for Unexpected Incidents
Your deliveries may not always go as planned! There may be unavoidable delays, traffic jams or bad weather which cause an expected delay in your deliveries.
It is important that you have real-time visibility into such exceptions. You will be able to proactively respond to the unexpected issues and take alternative courses to help your drivers deliver goods in as less time as possible. The organization should also have contingency plans in place which can be used in emergency situations.
Also, don't forget to notify the customer of such delays!
Transform Your Last Mile Delivery for a Better Experience
Last mile delivery has been perfected by some leading players such as Amazon who offer a host of options to their customers. Small retailers and transport companies can also offer the same level of service by optimizing their last mile delivery process.
One of the greatest factors that increase efficiency and reduce the cost of last mile logistics is a modern and integrated logistics solution. You can transform your delivery processes ensuring they meet the set standards and best practices in the industry. Your company can also achieve high customer satisfaction ensuring an effective last mile delivery process.
Author's Bio

Nitin Lahoti is the domain expert of Logistics and Transportation. He has 12+ years of experience in Design, Business Development and Startups. His expertise is in Product Ideation, UX/UI design, Startup consulting and mentoring. He prefers business readings and loves traveling.