Transportation management system (TMS) has become the foundation of modern supply chain and logistics businesses.
TMS is a specially-designed software that helps you plan, execute and optimize the shipment of freight. TMS performs three main actions-
Identify shippers and compare rates
Book shipments at the lowest costs
Track the shipment
TMS allows real-time visibility into the supply chain, improves shipping efficiency and cut back costs. You can increase the efficiency of your entire shipping process and improve customer service significantly.
Today, we will find out how TMS helps businesses ship and manage their operations efficiently. But first, a few words on the need for a transportation management system.
Why You Need Transport Management System in Logistics?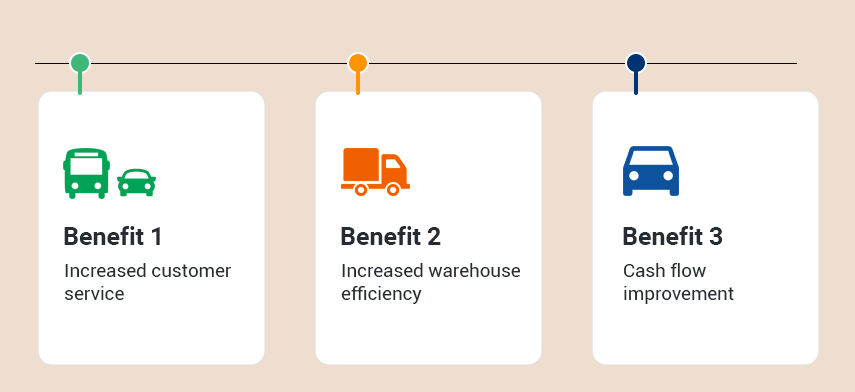 The modern customer doesn't want to wait. You need to align your business to meet your customer preferences.
The logistics and supply chain business is witnessing high demand. Parcel deliveries are expected to increase by 17% to 21% each year between 2017 and 2021. Same-day shipments will be responsible for a 50% increase in logistics costs as a percentage of revenue.
On top of this, standards have been set by programs like Amazon Prime! How do modern logistics businesses ensure top customer service at cost-effective shipping rates?
Like most shipping companies, you can also implement a transportation management system to rise above the challenges. TMS is ideal for use by shippers, carriers and logistics providers and also utilized by other businesses like-
e-Commerce
Manufacturing
Wholesales
Retailers
Third-party logistics providers
TMS is now recognized as an enabler of global trade and logistics, helping your business achieve growth along the way.
Functions of TMS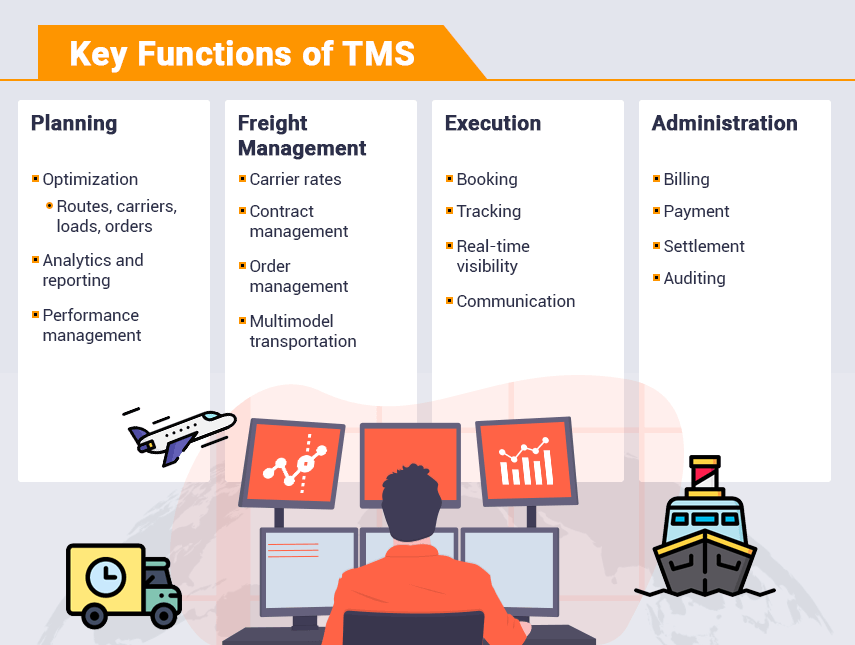 Transportation management software has four core functionalities-
1
Freight Management
Freight management is one of the top priorities of logistics and supply chain companies. Managing freight effectively reduces waste, unnecessary expenses and speeds up your whole operations through technologies like automation.
TMS is able to collect updated rates of multiple carriers in real-time for easy comparison. You can negotiate and manage rates from a single interface without the need to call different carriers. A TMS can accommodate tens of thousands of carriers without a glitch!
A transport management system is also useful to automate workflow and reduce the paper processes. You can take advantage of load tendering, order management and other advanced features too.
2
Execution
Execution becomes a breeze with TMS. You can make bookings in real-time, and perform essential functions of freight management. The transportation management system software also gives you real-time visibility into the movement of your goods with the ability to track them anytime.
You can even access all shipping related information from a single place and share necessary details with customers and clients. The solution also lets you communicate with drivers and track time and distance remotely.
The dashboard gives you a complete picture of your operations to make informed business decisions.
3
Planning
Optimizing the shipping process is one of the main goals of a transportation management software. Your TMS will provide all the necessary data and analytics to leverage your shipping process and deliver goods quickly at the cheapest cost.
You can also make optimum use of resources by utilizing your TMS to optimize less-than-truckload (LTL) shipments. Your fleet can even reduce fuel and labor expenses by planning multi leg trips and eliminating empty miles between delivery destinations.
The analytics from TMS can be linked with business intelligence applications for in-depth analysis. The insights will help you dig deep into your logistics business and discover key trends and patterns.
4
Administration
Administration features in your TMS enable you to handle the transport and logistics management workflow efficiently. It comes with robust documentation and reporting features to achieve compliance and get rid of the paper processes. You can enjoy several features like-
Billing
Payment
Invoice generation
Generating bill of loading
Track payments
Advanced transport management systems also handle settlement by confirming freight milestones like pickup, delivery and transit time. You can also gauge customer demand using the information available from your TMS.
Benefits of TMS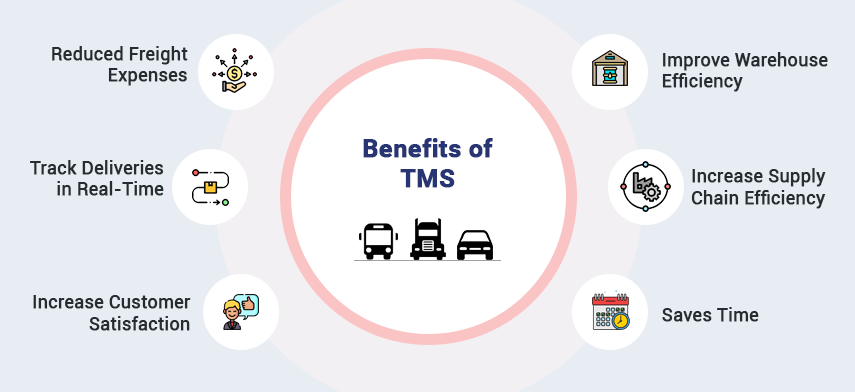 How does your business benefit from implementing TMS? Let's find out!
Reduced Freight Expenses


A transport management system helps you reduce freight expenses on several accounts. You can shop for the best rates and make considerable savings. Through optimization of routes and load-balancing, you can further lower your freight expenses. Analytics and accurate information of your fleet in real-time also make way for optimum use of resources.

TMS makes freight management and workflow efficient, which also results in savings. You can reduce your expenses significantly by implementing TMS and automating labor-intensive processes.

Track Deliveries in Real-Time


TMS gives you the ability to track your fleet in real-time. You can pinpoint the location of each driver on a GPS enabled-map and see the routes taken, delivery locations and other useful details. Full visibility into your fleet makes room for efficient management, which increases productivity.

Tracking drivers helps you to optimize routes and create better schedules. You can also locate drivers who are free and assign duties accordingly. Through tracking, you can assess your driver's performance and provide feedback as necessary.

If you have never used a transportation management software, think of how you can track the location of your driver while booking an Uber or Lyft. TMS tracking works on the same principles.

Increase Customer Satisfaction


TMS helps you run your supply chain smoothly, enabling you to make on-time deliveries. Your customers can track deliveries and stay updated on the progress. The predictive analytics of TMS allows you to send accurate delivery updates to your customers like late deliveries.

TMS also provides a link between order management and warehouse management, making the whole process efficient. You can even consolidate customer orders to identify the best rates for shipping.

TMS helps you provide on-demand, personalized service to your customers. Your customers can also stay informed, which naturally results in satisfaction.

Improve Warehouse Efficiency and Productivity


TMS allows you to track the lifecycle of your orders and deliveries in real-time. You can make accurate forecasts based on this information, improving the transparency of your supply chain network.

A transport management system allows you to have a well-organized warehouse. It facilitates inventory management with tracking of goods. You know exactly where freight is located, whether they are in transit or in the warehouse. As a result, you can improve the efficiency of the processes.

You can even increase your shipment accuracy as a TMS reduces the need for manual entry of information. The software also eliminates paper processes making workflow more streamlined.

On the whole, you can increase warehouse efficiency and productivity by implementing TMS.

Increase Supply Chain Efficiency


You can get a bird's eye view of your entire supply chain through an advanced transportation management software. The system also provides access to real-time information and full visibility into your operations. Managers can also use the solution to take advantage of any opportunity and resolve any issues that may head your way.

Plus, the ability to track orders, drivers and inventory also increase efficiency.

Saves Time


TMS can help you save precious employee hours through its features. You can get rid of paperwork and automate time-consuming processes. Shippers can access the right information at the right time to stay updated and notify customers.

The software also saves time through rate and shipper comparison from a single platform. You don't need to scroll through endless pages of spreadsheets anymore! Customers can also save time by using self-help portals to get all the information they want.

So if you want to save time and always make strategic decisions, a TMS can go a long way to fulfill that goal.

New Delivery Capabilities


Your company can acquire new delivery capabilities by using TMS to optimize the way you ship. You can, for example, set up new shipping programs like point distribution to increase efficiency and save costs. Another example would be creating inbound programs between the various locations of your company.

You can create a master bill of lading easily with a TMS. Then you can utilize individual logins at multiple locations to manage everything from one place.

A transportation management system software also lets you plan and execute your capabilities efficiently. So if you have any new programs in mind, it's time to implement them through TMS.
The Future of TMS
The future of TMS is expansive and we are going to see the technology become more robust and feature-rich. Currently, TMS providers are toying with IoT to provide complete fleet information, including driving conditions and parameters like fuel consumption.
TMS will also see the adoption of machine learning and AI to improve the predictive capabilities. This helps businesses plan accurately and lower risks for sensitive goods like dairy or meat. Customer-oriented improvements like chatbots are also becoming a popular part of TMSs. Even blockchain has come into the picture to provide more visibility and improve the accountability of the supply chain. TMS will become the need of logistics businesses fostering trade and freight movement across borders and territories.
Author's Bio

Nitin Lahoti is the domain expert of Logistics and Transportation. He has 12+ years of experience in Design, Business Development and Startups. His expertise is in Product Ideation, UX/UI design, Startup consulting and mentoring. He prefers business readings and loves traveling.