The vehicle GPS tracking is not a fancy feature anymore! Many transportations and logistics businesses have adopted the technology for monitoring vehicle movement and ensuring safety and efficiency of the delivery process. The global vehicle tracking market is expected to reach $11 billion by 2024 with heavy commercial vehicles experiencing 12% growth from 2017 to 2024.
In this post, we will find out how the technology works and the advantages it brings for logistics operations.
How does Vehicle GPS Tracking Work?
Vehicle GPS tracking systems generally come in two parts- a GPS tracker which is placed in the car or truck and monitoring software. Modern vehicle GPS tracking software can also be accessed through tablets and smartphones and used by many transport and logistics companies for fleet management and safety.
The tracking software enables the admin to view statistics about location, position, and usage of the vehicle. You can also get detailed information on fuel consumption, vehicle speed, distance covered and real-time location of your fleet. The mobile GPS tracking solutions enable two-way communication between the driver and the fleet manager.
You can develop a vehicle tracking software in collaboration with an app development company with an expertise in providing logistics solutions. The company will be able to offer you customizations as required by your business and help you deploy it.
A GPS tracking program can add value to your business and make your logistics management more efficient. Now we will explore the advantages that come along with vehicle GPS tracking.
Benefits of Vehicle GPS Tracking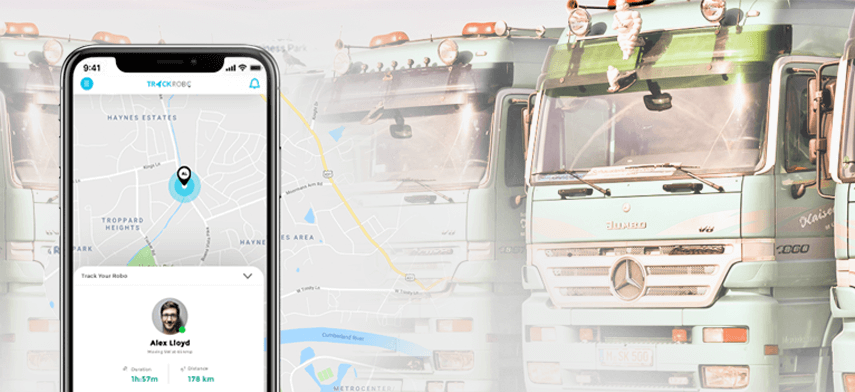 Take a look at how vehicle GPS tracking works.
Improved Fleet Management

A vehicle tracker is meant to make fleet management easy and efficient. You know the location and routes of all your vehicles, so planning and organizing your delivery becomes effective. You can also reduce the number of steps in the process using GPS vehicle tracking.

Let's say you get an order for a pickup from location A. Earlier, you would have to check all the routes of the drivers in your logbook and then make several calls to find out who is nearest to point A. It would take a lot of time and effort on your part just to locate the right vehicle. But GPS tracking allows you to access all the routes and the current position of your vehicles. You can just find out from the map which vehicle is nearest to A and send the pickup details directly on the driver's mobile.

You can also manage the routes, schedule detours and warn the drivers if they are taking the wrong routes.

Monitor Driving Behavior

The vehicle GPS trackers come with driving monitoring technology which tracks the driving habits of the drivers. For this reason, the drivers are sometimes unwilling to use the application. But you can use it to reward the best drivers and set standards.

Admins can get instant updates for events such as hard acceleration, steep cornering, harsh braking which helps you detect the drivers at fault. You can then take corrective measures or warn the drivers as necessary. A continuous tracking system ensures that all the drivers are under supervision and avoid overspeeding & rash driving.

Improve Fuel Efficiency

Some driving traits such as over speeding, sudden acceleration, and aggressive braking can increase the fuel consumption of a vehicle and also compromise the engine efficiency. A vehicle GPS tracking software tracks such unfavorable driving habits and notifies you of the exact statistics.

You can increase your fuel efficiency by finding out the drivers who are responsible and ensuring they abide by safe and recommended driving techniques. The tracking solution also lets you identify the vehicles which guzzle more fuel so that you can send them for maintenance and repairs.

The vehicle tracking software also helps in route optimization and achieves maximum efficiency for your fuel. Savings in fuel automatically translates to reduced operating costs.

Optimum Use of Resources

Drivers are the backbone of your logistics business, and it's imperative that you need to manage them efficiently. Using the data from your vehicle GPS tracking software, you can find the exact status of your fleet at any given moment.

You can view the trucks which are idle, those out on delivery, the orders of each driver and other information which helps you assign duties effectively making sure all the vehicles and drivers are utilized optimally.

Unparallel Efficiency

A vehicle GPS tracking solution increases the efficiency of different processes in your logistics management. You are always in the loop with automated and instant updates from the tracking software. The data helps you to make quick and informed decisions which impact your bottom line.

You can also get rid of all the tedious paperwork and drivers can drive freely without maintaining lengthy log books. All the information and necessary details are picked up by the vehicle GPS tracking software and presented in a single interface for your access. You can bring out the best in each of your employees and increase their efficiency.

The tracking solution also lets you handle technical failures effectively. If a vehicle breaks down in the middle of a delivery, you can quickly assign the nearest available vehicle for complete the order.

Real-Time Updates

Real-time updates enable you to stay in control of your delivery operations. You have the extra advantage of real-time communication with the driver, and this helps you give direct and instant instructions to the driver after considering the ground realities.

You can also solve any unexpected situations effectively as you have the complete knowledge of the status of your fleet. Problems like unauthorized usage and idling can also be handled efficiently by contacting the carrier in real-time.

The updates also help you to respond to the customer queries as you can provide them with the exact status of their order with real-time updates.

Reduce Your Expenses

Running a logistics business is an expensive matter! You have to pay the wages of all the employees who help you manage the routes, take calls and pass information to the drivers, make entries in the record books- it adds up to a substantial administrative and running cost if you are dealing with hundreds and thousands of orders.

But with the help of a GPS vehicle tracking software, you can drastically reduce the costs. You don't need any employee to keep track of your fleet or routes. All the data are collected automatically by the software without the need of any human intervention. You also don't need to maintain lengthy records or paper-based logs.

All of the benefits translate to increased savings!

Route Optimization

Transport and logistics companies depend on route optimization to reduce costs and generate an optimal return on investment. Route optimization has gone through a lot of changes which have ended up adding value to its performance and efficiency.

Many factors have to be considered to optimize the routes for the drivers such as pickup and drop locations, the distance, vehicle capacity, traffic conditions and so on. Modern vehicle GPS tracking solutions come with predictive technology which can determine the best routes to take by automatically considering all the factors. It is no longer a manual process- the software uses the available data to chalk out the most suitable routes automatically.

Dynamic routing has become popular in route optimization due to the rise of seamless vehicle tracking solutions.

Driver Identification and Document Processing

You cannot have an effective vehicle tracking system without features to get the necessary details of the driver. To ensure carrier and asset security, vehicle GPS tracking programs come with driver identification and data retrieval system.

Fleet managers can also use the image retrieval feature to ensure drivers are assigned with the proper jobs. Drivers can also use their mobiles to upload documents like license and receive necessary permits from the fleet managers.

Reduce Risks of Theft

Transport and logistics companies have to deal with costly consignments and shipments regularly. On top of that, each truck or van is also an investment and should have some form of protection other than insurance.

A GPS vehicle tracking software can minimize the risks of theft or hijacking as you are always aware of their real-time location. In case someone tries to steal the vehicle or attempts to break in, the software will send instant notifications to your mobile device.

You can quickly get in touch with the authorities and prevent your vehicle from being stolen or hijacked. The cops will also know where the vehicle is heading and can nab the culprit successfully.

Excellent Customer Service

Logistics businesses are facing increased demand from the customer in the modern age. The customer wants to stay on top of the delivery process with necessary updates about the process.

A GPS truck tracking program enables logistics companies to make more deliveries in less time. You can use different features such as route optimization to fit in more deliveries in a day.

The tracking software lets you update the customer about the expected time of arrival if there are any delays on the way. The customer feels he is in control and that goes a long way to improve customer satisfaction.

Save on Insurance Premium

Logistics companies can get attractive discounts on annual insurance premiums by installing vehicle GPS trackers. Insurance companies look at the risks while working out your premiums which include chances of theft, the risk of accidents and driving behavior.

A vehicle with a GPS tracker has fewer chances of being stolen as we have already discussed. You can also keep the driving behavior in check using the real-time updates from the tracker. The lower amount of risks enable you to have a lower premium as your vehicles and drivers are secured.
Grow Your Logistics Business with Vehicle GPS Tracking
GPS tracking is becoming a must for logistics and transport companies in this age of connected existence. It brings a wide range of advantages for your business opening up endless possibilities for growth and transformation.
You can use the system for effective fleet management and reduce various costs like fuel consumption and administrative costs. The technology also ensures the safety of both your drivers and vehicles providing real-time status updates for quick decision making. GPS tracking is a profitable investment which increases your operational efficiency and provides a good ROI.
Get in touch with an expert fleet management solution provider to leverage the benefits of Vehicle GPS tracking for your business.
Author's Bio

Nitin Lahoti is the domain expert of Logistics and Transportation. He has 12+ years of experience in Design, Business Development and Startups. His expertise is in Product Ideation, UX/UI design, Startup consulting and mentoring. He prefers business readings and loves traveling.