The sudden onset and widespread aftermath of the coronavirus have decimated global operations in a way that can't be undone. Most of the world's supply chains are interconnected, and the most affected regions like China, the USA, and the EU are at the center of several global supply chains.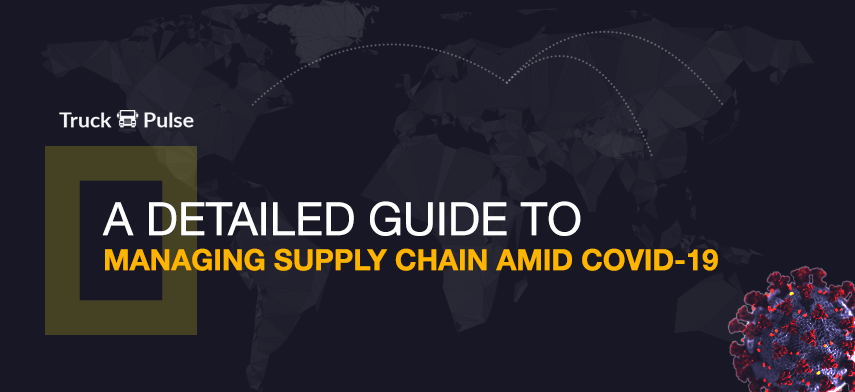 Unsteady inventory levels, fluctuating demands, evolving preferences, and strict restrictions – companies around the world fear that they may not be able to recover soon. On the other side, impacts in businesses across industries seem inevitable, calculated planning and devising a response strategy can help mitigate the damage and protect the supply chain.
But first, let's discuss the impact of COVID-19 on global logistics and supply chain management, and how you can cultivate a proper supply chain management strategy to minimize these disruptions.
Impact on the supply chain due to COVID-19
One of the benefits of globalization is the interconnection of the world's supply chains. For instance, China is by far the largest exporter in the world. The country exports more than $1 billion worth of goods to about 117 countries across the globe, mainly consumer electronics, plastics, vehicles, clothing, toys, and furniture items.
Other countries like the USA, Japan, South Korea, and EU nations also play a critical role in global logistics and supply chain management. The national lockdowns and closed airspace and borders have resulted in the disruption of the world's supply chains, especially the linkages relating to medicine and food.
Let's take a look at some of the adverse impacts of COVID-19 on the global supply chain.
1
The effect of pharmaceutical elasticity
The limitations to airfreight pose a significant challenge to the logistics operations of pharmaceutical companies. Despite the recent surge in freighter flights, the reduction in passenger flights has caused a 31% reduction in global air cargo capacity.
This has led to a sudden and substantial hike in air freight rates, which has negatively impacted the supply chain worldwide. For example, UNICEF, one of the largest suppliers of vaccine doses in the world, relies heavily on passenger flights for the transportation of vaccines.
2
Complexities in the food value chain
Agriculture-producing markets face a two-faced dilemma because staple crop production is capital intensive, and high-value commodity production is labor-intensive. Challenges to manage supply chains for staple crop suppliers are centered on logistics, and maintaining high-value agricultural commodity value chains requires addressing labor shortages and logistics disruptions.
Brazil, Argentina, and the USA are the largest producers of staple crops in the world. But the COVID-19 pandemic has coincided with the autumn in the southern regions of the globe, which has affected the production of staple crops.
3
Industries across the globe affected
Not only the pharmaceutical and agricultural sectors, but industries across the world are at the receiving end of the COVID-19-caused supply chain disruption. The forced closures of business and production plants have had a sheer effect on the current supply chain through supply-demand imbalances.
The international supply chains are breaking down because of the plunge in the volume of products and resources moving through the ports. Container ships are lying up because there is no cargo for them.
Another industry that has been significantly affected by the global supply chain disruption is the automotive sector. The entire industry came to a halt when the production plants were shut down to contain the spread of the disease. Some suppliers even swiveled their production units from making automobiles to building ventilators.
4
The biggest disruption in decades
The magnitude of disruption caused in this short period has been monumental. Turmoil, at such a large scale, hasn't been seen since World War II.
And what makes the impact of COVID-19 so profound is how it has complicated both upstream and downstream supply chains. Companies are struggling to acquire materials needed to make products and shipping them to the stores and wholesalers. On the other hand, the retailers and wholesalers are having trouble supplying the products to the end-users. On the whole, COVID-19 is disrupting every aspect of supply chains.
Responding to supply chains for disruption during crisis - Protecting the supply chain
The rising numbers of the COVID-19 have declined all the prediction reports of the disappearance of the disease. At present, it's impossible to predict how much worse the pandemic would spread and when it would be under control.
Businesses have a minuscule window of opportunity to plan and respond to the situation. Here's a three-step roadmap – prepare, respond, and emerge to protect your supply chains:
Step 1 Prepare
Identify key suppliers and products:

One of the most prominent challenges for companies is to identify tier 2, 3, and 4 suppliers quickly. Phase them out for the time being, and focus on the most crucial products and tier-1 suppliers. Once you've identified your key suppliers, evaluate how dependent these supplies are in the affected regions.

Conduct supply chain risk assessments:

The next step is to conduct end-to-end supply chain risk assessments and prioritize critical focus areas. Identify the changing demand to locate vital gaps in supply, production capacity, and transportation. Then, define common goals and outcome-driven strategies to leverage additional distribution networks and protect the supply chain.

Data-driven scenario analysis:

Supply chain disruption isn't the only thing the pandemic has changed. It has also created a significant impact on consumer behavior and preferences. Therefore, it is critical to use intelligent analytics, and Freight Management Solution approaches to identify the changes in both supply and demand side.

Financial and legal implications:

Once you have a supply chain management strategy in place, it's time to investigate the effects on your margins, loan repayments, and cash flow. Also, consider any legal implications you might encounter during the entire process.
Step 2 Respond
Digital and automated manufacturing capabilities:

If you haven't already shifted to technology-based logistics operations, now is the time. Use IoT and automation solutions for smart manufacturing processes to alleviate the reliance on manual labor. By implementing a strong manufacturing excellence program enabled by Trucking and Logistics App Development, you can standardize your daily work and job aids.

IoT capabilities can help cultivate a digital ecosystem of connected systems, thereby providing users with updated, relevant data to make informed decisions. Automated manufacturing capabilities will also enable you to reduce labor requirements and costs.

Cross-functional teams:

Overcoming this situation of crisis requires working in close proximity with all the relevant partners and internal stakeholders. Seek input from all relevant stakeholders involved in manufacturing, supplying, or any other aspect of the supply chain. Responding effectively to a COVID-19-like crisis should be strategic and involve alternate sources of supply, prioritization, and inventory management. And the input and buy-in of a cross-functional team are crucial for any response to a crisis.

Invest in collaborative and agile capabilities:

The appropriate use of technologies can facilitate more agility and collaboration within the organization and among business partners across the supply chain.

From forecasting solutions for evaluating demand behavior to IoT devices for tracking goods movement, technology is playing a critical role in how logistics companies comprehend and respond to demand signals. These capabilities are essential for sustained business performance as they can increase supply chain resilience in times of crisis, like COVID-19.

Adjust procurement category:

Transforming procurement into a value generation function and adjusting category strategic priorities can go a long way in defining new business relationships and meeting the organization's supply chain objectives. In order to drive resiliency, companies can implement agile procurement operations solutions powered by Trucking and Logistics App Development and strategic priorities across quality, cost, delivery, etc.

Communication under crisis:

The efficiency of crisis communication among internal and external stakeholders can determine whether a business will collapse or stay afloat. Organizations should implement systems that can provide instant triggers and consolidated dashboards for the in-depth status of supply chains, along with the critical data required to make informed decisions.
Step 3 Emerge
Evaluate and learn:

You may have the best logistics and supply chain management strategy, but there's no warranty that you'll tide over the supply chain disruption. Once you've developed and implemented a response strategy, evaluate the impact of the response.

The lessons learned can help you undo your mistakes and develop a more resilient and sustainable supply chain. So, once your strategy is in place, look forward to evaluating opportunities to learn and turn adversities into opportunities.

Plan and implement:

It is critical to draw up tangible action plans to overcome the weaknesses identified during the crisis. Disruptions like these can occur in the future, and businesses need to be prepared and prevent the organization from sinking in if a similar situation arises.

Track, measure, and analyze:

Whether you manage to emerge stronger and tide over the crisis or collapse under it, it is essential to track, measure, and analyze the operational changes and their effectiveness methodically. By utilizing empirical indicators of your business performance, you can measure the benefits and shortcomings of your action plans for the organization, stakeholders, suppliers, and customers.
Final thoughts
The COVID-19 pandemic has impacted all industries. But instead of letting your business collapse, you need to assess, plan, recover, and respond quickly through the impediments and challenges standing in your way. Although the disruptions in the supply chain have paralyzed several businesses, it is critical to focus on building a resilient and sustainable supply chain for the future. If your business is struggling to stay afloat, implement an effective supply chain management strategy right away.
Author's Bio

Nitin Lahoti is the domain expert of Logistics and Transportation. He has 12+ years of experience in Design, Business Development and Startups. His expertise is in Product Ideation, UX/UI design, Startup consulting and mentoring. He prefers business readings and loves traveling.