Supply chain and logistics technology is trying to break down boundaries and improve the supply chain's productivity. The standard technological advancements in machine learning and AI are currently growing in areas like shipment tracking, supply chain management software, trucking transportation, user experience, and international transportation. RFID and IoT are not the only technologies to understand in this genre. Read on to learn more about the technology, trends, and evolution of logistics and supply chain management across various markets.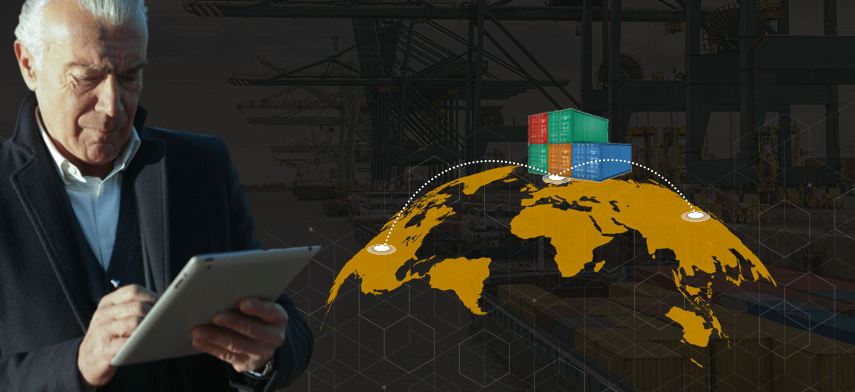 Let's Dig Deeper into Supply Chain and Logistics Technology
Today, when a customer orders an online package, the sites can fast-pace the delivery, offer tracking options, and minimize transportation costs. This advancement is becoming the basis of international shopping and global market capture. The supply chain and logistics technology advancement are apparent in the following areas.
Shipment tracking system

A couple of years ago, if you wish to know when you will be receiving your product, you need to have a phone call with the executive, who will check the database and give an estimate. Today, software advancement in this field allows customers to have live tracking 24/7. Some advanced tracking systems allow shipment notification or messages to the customer. The delivery crew receives customer information about a package, allowing them to contact the customer for coordination. It saves considerable time and cost in delivering the process and minimizes losses due to damage, delay in delivery, lawsuit, and more.

Supply chain monitoring

RFID might be an old-school technology, but it is still in use in numerous supply chains to monitor and track processes. The process allows the crew to have an overall picture of the expected and delayed inventory. Some companies have alarms customized to indicate if the process falls behind the deadline. Today, IoT is calling the shots in monitoring. The future of logistics can become more accurate, transparent to the customers, and faster with the help of IoT.

IoT is not a new technology. It helps the devices to work interconnected. For instance, using your home internet, you can switch on your heating system from a remote location with a mobile app. This example is a simple scenario of what IoT can do in a home. Think about a large warehouse where a manager can assign deliveries, start up the packing process, or even control the entire line with an app, several miles away from the warehouse. It is the first step towards complete automation of the supply chain with minimal human interference.

Connectivity

2.65 billion people are in any one of the social media platforms, connected to the world. Thus, the supply chain and logistics technology growth is trying to take advantage of this enormous connection. Do you want to share any vital information about delivery or industry information to the general public? You can connect with your customers via social media. Many logistic companies try to communicate with their customers on social media platforms, clarify their queries, and even respond to reviews. Online reputation is a critical factor for any business.

Accuracy

The technology in logistics need not be a customized solution just for the supply chain department. Sometimes, the right technology evolving in another genre can be of more exceptional service to this department. The best example is the mobile maps. The GPS helps the delivery team to track the right location of the customers without stopping at every local store to ask for direction. Moreover, the real-time tracking features and best route algorithm allows better visibility and faster delivery.

Customer experience

Both B2C and B2B business models rely on customer satisfaction. Manufacturing is getting more customized to meet the customer-centric market needs. It is not easy to attain overall customer satisfaction if the supply chain lags. Data analytics and automation help to predict customer needs and serve accordingly. Today, 'digital fitness' is becoming a standard to develop better strategies for supply chain management. Not every technology in logistics has to be in-house. Some companies use sharing business models, drop shipping, and other methods to keep their logistics less cumbersome.

Beyond these, the thriving logistics technology trends also cater to better efficiency, faster time-to-market, customization, dynamic capacity inclusions, and a decrease in overall cost.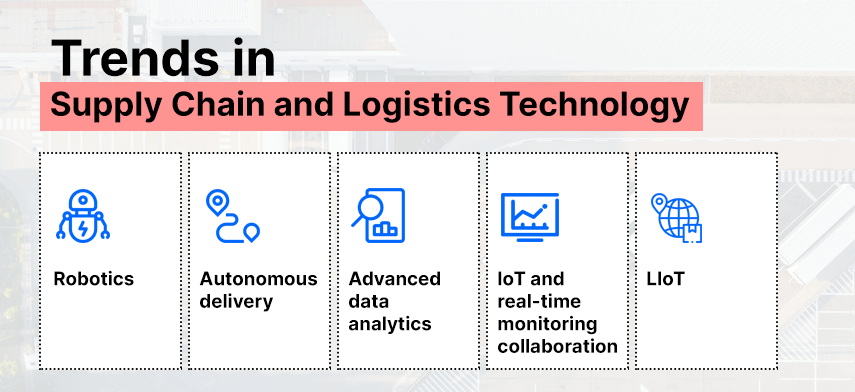 The technology world is dynamic. A concept or technology that is outstanding today can become a costly and obsolete method for a few years. Thus, it is essential to stay current on the logistics technology trends.
1
Robotics
The use of robotics is profitable and efficient in both the delivery system and in warehouse management. Robotics is not just for picking up and packing. The collaboration of robots (Cobots) is now connecting hardware and software via IoT, creating a futuristic supply chain management system. In 2018, the robot deployment in this department was three times more than in 2016. By 2021, the use of robotics in the warehouse will grow 15 times than in 2016. Automated replenishment technology using AI is enabling better management. There was a 7% increase in the use of this technology from 2018 to 2019, according to the 2019 survey by EFT.
2
Autonomous delivery
The autonomous delivery system involves drones and autonomous trucks. It is not just about replacing regular delivery vehicles with self-driving ones. It is about the complete effectiveness of the transportation method using GPS, sensor technology, and others. Walmart is already in the pursuit of autonomous grocery transportation with Draeger's Market. According to a study conducted in 2018 on Global Truck Study by PwC, by 2030, the logistics ecosystem will consist of autonomous vehicles, cable trucks, digitized supply chain management, and more. This advancement is not a far future of logistics technology. It is already a growing trend. By 2021, the last-mile delivery market using the autonomous vehicle will touch $11.13 billion and will have around seven times the growth by 2030.
3
Advanced data analytics
In 2019, DCSA created new data standards, which will help to create high-value information. Such data is the basis for developing new or improving existing logistics and technology services. It is possible to predict the seasonal change in demand, adapt to the capacity requirement, offer last-mile delivery, predictive maintenance, linehaul planning, and more. Beyond demand forecasting, data analytics will stand as the basics for every development for better customer service. UPS saved 28% of the overall delivery cost by analyzing big data on last-mile processes. The sensor-based data from DHL's delivery vehicles helped develop Smart Trucks that reduced fuel consumption by 15%.
4
IoT and real-time monitoring collaboration
2020 is seeing the new collaboration trend between IoT and logistic companies. The best example is Hapag-Lloyd, which is teaming up with IoT startups to create a real-time monitoring system for their containers. Real-time tracking is getting more attention among logistic companies for an increase in customer satisfaction. This collaboration can reduce the order processing time by 30% and increase accuracy by 99.5%. According to a study connected by DHL, by 2020, 50 billion connected devices will work through the logistics market, which amounts to just 3% of the world's total devices. Experts believe that this collaboration has very high potential in various lines of logistics and supply chain management.
5
LIoT
Location-aware IoT (LIoT) is the new evolution that combines manufacturing and logistics departments to create location intelligence. The indoor position techniques will help to track mobile and fixed assets and combine the information with the digital maps. This technology will increase the operational efficiency of the supply chain from the manufacturing process. According to the IoT asset tracking study of 2019-20215 by ResearchAndMarkets.com, there will be 267 million asset trackers by 2027 working in numerous industries, including logistics, supply chain, industrial automation, and others. Until 2024, the primary industry to utilize this technology will be fleet management or vehicle tracking for logistics.
Top 10 Supply chain and Logistics Technologies
Let us move on to the industry standard technologies and growing high-potential ones in the logistics and supply chain department. Technologies determine the efficiency of the process. Starting from robotics to customized software solutions, the logistics and supply chain department has collaborative and stand-alone technologies as critical players to improve efficiency and reduce overall cost and time. Since companies are going global and trying to cover a broad base of customers, it is time to up the game and picks up trending technologies to stay competitive.
Autonomous delivery system

In the future, the supply chain and logistics technology revolving around IoT aim at complete autonomous logistics. Autonomous cars are on their way to the market, and many major brands like Amazon are ready in the market with their drones. Uber and Embark are embracing with Tesla to make autonomous trucks into normalcy. These advancements do not generally mean man-less delivery. These advances will allow the driver just to assist the process while the algorithm calculates the fastest route, right package at each destination, and estimated time for completing the process. The scope of these technologies is to achieve man-less delivery.

Digital twins

Digital twins is the new logistic technology of 2020 involving modeling. The digital twins help identify recurring trends and weaknesses and create 3D models of the layout for experimentation. This concept will increase the warehouse's efficiency, improve delivery time, and aid in route detection.

Blockchain

Blockchain helps in better traceability and control over the entire line of logistics. CargoX is one of the pioneers in creating a full-fledged blockchain-powered logistics industry. Blockchain allows the users to access the transaction ledger for traceability but makes it impossible to hack. Thus, it is possible to create a supply chain where third parties will gain information only on a need-to-know basis. Therefore, carriers can share important data without the need for data exposure to any intermediary. Blockchain helps to create fast digitized trade documents, customs clearance, and chain of custody. It helps in reducing the time taken for international logistics without forgoing security. Other significant advantages of using blockchain in logistics and supply chain are:

Temperature monitoring of shipments for perishables, live transportation, medicines, and others.
Smart contracts help to increase the standard of the shipping process.
Better tracking allows retailers accountable for the products even after delivery. It improves product quality and customer satisfaction.
It is the first step towards paperless supply chain management.
Ability to predict future bottlenecks and automate workflows in a real-time scenario.

Warehouse robotics

The supply chain and logistics technology are not just for the delivery process. The warehouse is where the majority of work gets done. Many advancements are focusing on software and robotics for warehouse tasks. The most common and trending technologies are autonomous forklifts, tracking software, RFID tags, ERP systems, etc. Amazon announced a 20% (roughly) reduction on operating expenses of its warehouses by adopting robotics.

Supply Chain Visibility

Supply Chain Visibility (SCV) is the standard technology in logistics and supply chain management. This technology allows the companies to utilize real-time information like port condition, traffic patterns, weather, and others and optimize the routes. Visibility is not possible without using IoT and AI technologies for tracking and management. According to a study conducted in 2017, the companies that incorporate better visibility by integration can increase efficiency by 20%.

Synchromodality

Synchromodality is the process of dynamic switching between transport modes with regards to the data analysis results. This process allows sustainability via choosing cheaper and greener options, whenever possible and switching back to traditional methods if not, without any delay. The critical element of this technology is the automated routing of each shipment based on the big data results. Trucking and logistics app development teams are working on creating real-time monitoring apps with performance metrics to have a proper human intervention for this technology. Shortly, the complete process would be human-free. DHL is currently trialing this method for the delivery system.

Cloud computing

Cloud computing offers flexibility in logistics and technology services. Cloud computing helps to bring the entire logistic operation into the digital platform. The advantages of going digital are numerous, including visibility, better control, data security, scalability, reduction in operation cost, and satisfying customer requirements. Crowd-sourcing delivery models can get integrated into the supply chain with ease.

Wearables

Wearables could be IoT connected devices or trackers, or just productivity-inducing products by trucking and logistics app development companies. According to studies, wearables increase productivity in warehouses by 30%. DHL conducted a pilot study for the order picking process using wearables. The workers showed 25% more efficiency and better satisfaction.

Augmented reality

DHL's study on augmented reality showed a 25% decrease in overall business cost. Augmented reality helps to create holographic images on real objects for instructions or directions. This technology helped to improve the workflow efficiency in load optimization, parcel handling, and so on. DHL is currently moving forward by offering smart glasses to the workers in its international warehouses.

On-demand application

On-demand application is a software solution customized for a specific company regarding route planning, delivery channels, resource allocations, and so on. The company can handle all its logistics and supply chain processes under one platform. This technology is a wide area, where you can find simple software solutions to multi-faceted ERP for the end-to-end supply chain management.

It is not effective or profitable to implement every technology in the market. A company must choose its required technologies based on exclusive requirements, scope, mission, and others. Remember that not every technology is all roses. For example, usage of autonomous trucks will increase the insurance premium cost and induce changes in workforce satisfaction. Drone delivery will get curbed by federal laws that are yet to come. The more digitized a company goes, cybersecurity becomes a new obstacle.
Conclusion
It is essential to adopt new technologies to improve efficiency and have a standing chance to stay afloat in today's market. While drones, blockchain, AI, and data science are the trending technologies to cover, they are evolving on a day-to-day basis. It is important to stay current. Also, it is essential to choose a customized software or hardware solution for your supply chain management. Two companies with the same product and the same market will not have the same requirements. Thus, it is time to avoid some pre-built logistic solutions and choose tailored ones. Such a solution will help you in increasing productivity without too many complications.
Author's Bio

Nitin Lahoti is the domain expert of Logistics and Transportation. He has 12+ years of experience in Design, Business Development and Startups. His expertise is in Product Ideation, UX/UI design, Startup consulting and mentoring. He prefers business readings and loves traveling.