Being a technology-driven ingenious invention, Blockchain is considered as a revolutionary mechanism that brings maximum accountability for everybody. When blockchain technology is used, say goodbye to missed transactions, human errors, or any kind of exchange done without the approval of the people involved. It is an open, decentralized ledger, mainly focused on recording the transactions between the parties involved in an empirical and abiding way. Though it was originally introduced to run the digital currency Bitcoin, the technology has immense potential to leave a huge impact on every sector from education to finance to manufacturing to transportation. Especial in the transportation sector, together with IoT, the blockchain acts as a powerful solution for real-time logistics tracking. It brings transparency in the logistics business with utter efficiency.
According to a survey by Forbes Insights, a major amount of logistics industry and functional executives, supply chain and transportation managers are welcoming machine learning, artificial intelligence, and especially blockchain in order to meet their customers' fast-changing interests and requirements.
Here to present an elaborated view on the competitive advantages and profits you can get if you incorporate with IoT and Blockchain technology for your logistics and trucking business. So, without further ado let's start the discussion.
The Growth Brought by IoT & Blockchain Technology in Logistics & Trucking Industry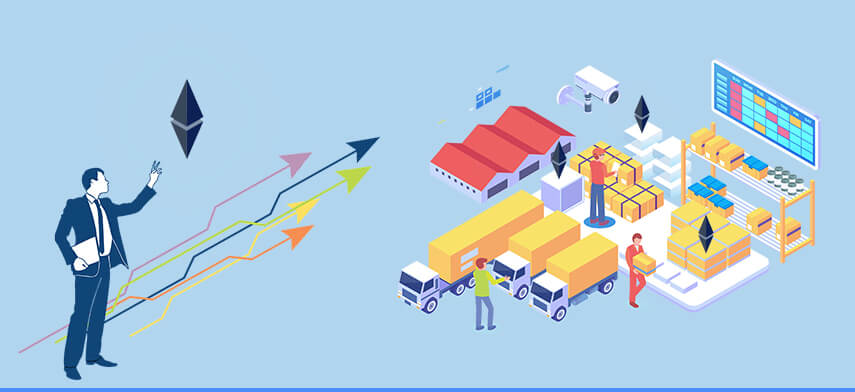 Needless to say, the impact of Blockchain in transportation, especially trucking industry is huge. From transportation to logistics to supply chain - blockchain drives efficiency everywhere. Let's have a look at the top 7 improvements that blockchain together with IoT can bring in logistics and trucking industry.
1
Real-time Asset Tracking
With IoT devices, you can do real-time tracking of all the goods via digital sensors throughout the supply chain. There's no need to track the transportation process manually. These tracking devices give you high benefits in setting your logistics system, pushing delivery times, maintaining transparency in the transportation process and keeping tabs on the items being transported in and around the chain.
2
Comprehensive Assistance in Inventory Management & Warehouse Auditing
Maintaining error-free and latest inventories has become easier with the introduction of such technology. There are small sensors attached to all the goods in the warehouse. Through these, you can always stay updated with the products information such as the current and earlier location of each product, how long they are in the facility and more. Other than the management process, the auditing of warehouses gets also be organized with IoT sensors, minimizing the possibility of missing any item, storing improperly and other problems that may harm the overall revenue.
3
Transparency in Transportation
In a supply chain, you need to keep up with the continuous flow of various data, documents, invoices, and purchase orders across the world and government organizations. With blockchain technology, there's no need to manually check all these details. Whenever a transaction is made it gets instantly recorded and becomes visible. Such records include tracking information, payment details, contracts, delivery details and more. Moreover, as Blockchain technology allows complete tracking of goods throughout the supply chain, consumers can stay aware of where their products come from and what they are made of. This brings a win-win situation for both your organization and consumers. You can maintain transparency about your logistics process between your consumers. As a result, the integrity of your organization can be maintained with efficiency.
4
Guaranteed Security
Blockchain ensures a great level of security and trustworthiness of information with the chain of digital blocks. All the records stay safe through cryptography. In assistance with avant-garde consensus protocols through a network of nodes, the blockchain approves every transaction and records information in an incorruptible and error-free way. After a transaction being recorded, there is no way to modify it from a single network. It is shared through a peer-to-peer network. Thus it stays secure even when there is any malfunction occurs in any single computer. Also, this way the possibility of hacking gets reduced.
5
Reduced Cost & Increased Efficiency
With blockchain technology, your suppliers and vendors can have a look at the same data in real time. This way you can avoid following conventional supply chain procedures. Be it the approval of documents, confirmation of the shipments, or reconciliation of the payments - all can be done efficiently on the blockchain ledger with immediate effect. There will be no need to wait for getting the confirmation via delivery and mail. As a result, you can avoid unnecessary delays and save cost. Also, the need for a third party or the intermediaries will be reduced and eventually you will be able to save a substantial amount of administrative cost.
6
Simple & Error-free Accountability
Gone are the days when you used to follow a time-consuming and paper-heavy procedure to maintain accurate records and often experience the difficulty to avoid human errors. In assistance with blockchain technology, keeping a record is possible using a digital ledger shared among multiple parties. Also, once a transaction is recorded, its balance gets checked by the system automatically. If there is no balance in any transaction, it will not be recorded and the system will notify you. This way the accounting process becomes free of clutter and error.
7
The Impact of BiTA
The initiatives taken by Blockchain in Transport Alliance (BiTA) have started putting a strong positive impact on the logistics industry. It has improved the whole scenario of blockchain's utilization in the logistics industry with common standards, thought leadership and awareness on this technology. In the near future, it can be expected that such initiatives of BiTA collaborated with other international transportation companies will make global networking more efficient than ever.
After going through the major growth that Blockchain has the capability to bring in the logistics business, you must feel super inspired to choose this technology for managing your transportation and logistics activities. But you should know that many companies face various challenges while implementing this technology. The common challenges to blockchain technology synopsized as:
Challenges to Blockchain Technology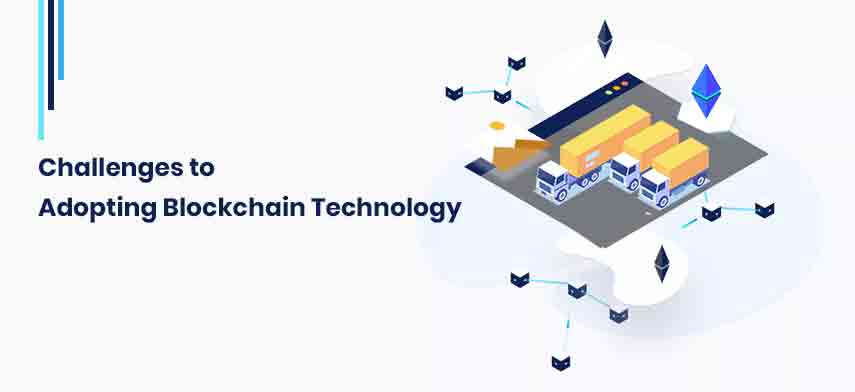 Lack of Understanding & Groundwork by Enterprises
The Need for Higher Computing Resources
Difficulty in Managing Decentralized Platform
Data Complication
Amalgamation with ERP Applications
Complicated Application Development Process
Inefficiency in Updating Information
Despite the challenges, if implemented correctly blockchain and IoT can surely provide wide benefits to the transportation industry. To encourage the transportation and logistics companies for overcoming the challenges and reaping the maximum benefits, some of the renowned names in the global industry of logistics have already started focusing on Blockchain. On January 2018 together with Maersk, IBM announced to develop a worldwide trade platform based on blockchain to minimize the expense of shipping globally, enhance visibility throughout the supply chain and keep the transportation process free form errors caused usually from paper-based work. In a nutshell, their initiative has brought growth in global supply chains through digitization and encourage other companies to understand the process of using the framework to solve all logistics issues and make the process seamless.
Opportunities for Improvement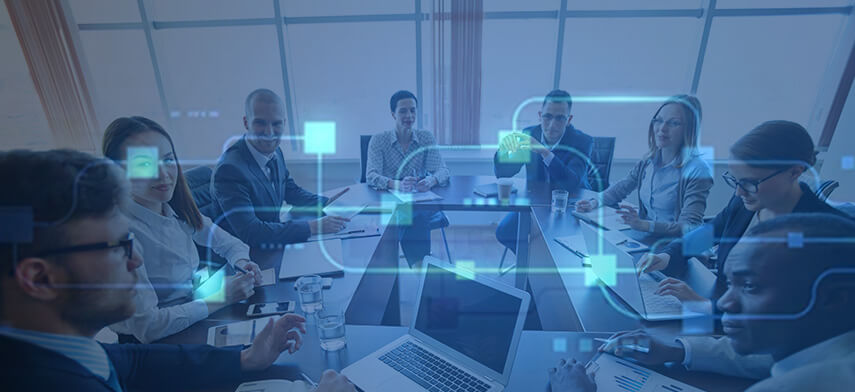 Disputes for Payments

In a conference formed by BiTA, there was a discussion about how logistics companies experience disputes for payments. Often the shippers fail to receive a proper bill and therefore do not pay. Such scenarios cause strain in cash flow.

Blockchain technology has the full potential to eliminate such disputes for payments. Moreover, it has been forecasted that "10% of the global gross domestic product will be stored on blockchain by 2025. It has the power to transform almost every element of the transportation industry."

Administration & Processing Expenses

Due to a significant amount of paperwork and many shipping supply chains often shamble between a surplus of third parties and middlemen. Consequently, the possibility of human errors, such as losing or delaying of documents increases. This increases the expenses of transportation.

In this scenario, blockchain can bring improvement. It reduces paperwork and the need for middlemen. You can have a single view of all the transactions and eventually avoid a significant amount of resource waste.

Conveying of Temperature Controlled Items

A report says, when it comes to transporting pharmaceutical products, "Globally, 8.5% of sensitive pharmaceutical shipments experience temperature deviations". This causes waste of transportation expense, inefficient administrative process and sometimes loss of the goods.

By recording the lading and customs related details for each container, blockchain ledger ensures supply chain transparency and safety that simultaneously improves the temperature security of the shipping containers.

Inefficiency in Consolidating Less Than Load (LTL)

The trucking companies throughout the world face LTL issue and inefficiency in matching demand with supply. As a matter of fact, "truckers drive more than 29 billion miles with partial or empty truckloads"

Blockchain can solve this problem in the trucking business. With its safe and conflict-free network, this technology can make supply chain efficient and match shippers with carriers.
Wrapping it up,
Undoubtedly, the transportation industry is a huge section of the global economy. IoT and blockchain can revolutionalize the operations of this industry, especially the trucking sector. The technology has already brought a great boost in the industry and stores massive potential for the near future as well.
Author's Bio

Nitin Lahoti is the domain expert of Logistics and Transportation. He has 12+ years of experience in Design, Business Development and Startups. His expertise is in Product Ideation, UX/UI design, Startup consulting and mentoring. He prefers business readings and loves traveling.