The realm of transportation in India has a huge market that is embracing the power of logistics mobile applications at a growing rate. Research says, the logistics industry in India is estimated to be more than $ 120 billion among which the road transportation itself carries 60%. And this estimation can reach $ 300 billion by the year 2020. Also, according to Global Market Insights, as the growth in the e-commerce industry is expected to drive the third party logistic (3PL) market due to an increase in demand for fast delivery, efficient inventory management, freight forwarding, and individualized shipping time, this 3PL market is set to exceed USD 1,100 billion by 2024.
These statistics clearly show that the trucks are in great demand. To meet market demand, recently some logistics startup aggregators have come up with an innovative idea - blending logistics management and trucking business with the power of technology. They are gearing up to streamline the process related to IT, warehouse management, networking and complete logistics control through logistics app development.
Importance of Logistics Apps in Trucking Industry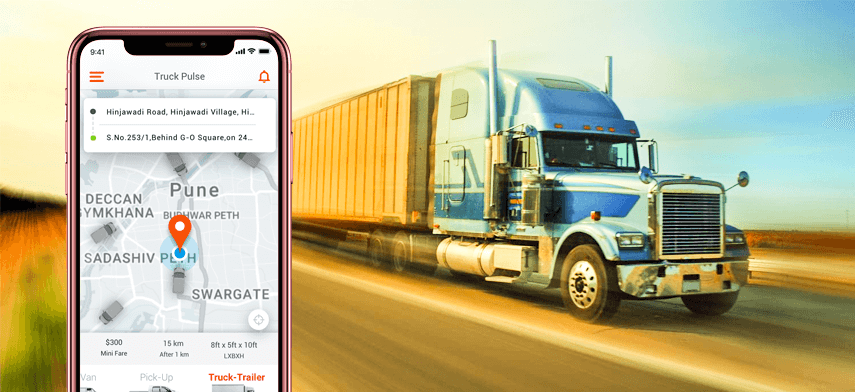 Trucking and logistics apps have the potential to make the trucking industry more efficient than ever by meeting consumer demands for packaging services straight with the source. It eliminates the requirement of a middleman between shippers and truckers while optimizing associated expense and time taken to deliver and receive packages. In a nutshell, an intuitive truck dispatch software brings an advanced freight management solution to streamline logistics and improve overall efficiency for shippers, drivers, and carriers. It caters to trucking & logistics businesses and startups to bring automation and scalability to their operations.
How Are Trucking Apps Modelled?
When it comes to shipping through a trucking app, building a relationship to expand the network of available carriers is the key aspect. The role of the company, which is about to launch a trucking app, is to collect important information from each driver, including the size of the truck, real-time location and insurance details to make the application work and streamline the procedure of getting packages delivered. Such trucking apps include the carriers who, chosen by pertinent algorithms, accept or reject opportunities shown on the app and eliminate the waiting, negotiating and paperwork that bog down the transportation industry. These apps are developed in assistance with well thought out terms that never fail to draw the attention of the drivers.
For example, Uber for trucking apps is aimed to match the drivers to the customers. The drivers listed in Uber trucking apps are actually the package carriers and the app sets a competitive price, based on distance, size, and weight of the package and some other factors that should be accounted for in the transportation industry.
For a startup, while developing a logistics app, reliable carriers are highly useful to attract shippers. Thus when developing your logistics application, legitimating is the key. When your carriers will be legitimate, the shippers will trust your app's assistance to get the transportation done. Before starting the app development process, consider pre-screening your drivers and carriers to inspect their trucks, review their driving career and create a database of trustworthy online carriers to make sure no illegal carriers can use your app.
You may find this process tedious. But once it's done correctly, you get the assurance of meeting the industry high standard and earning the trust of your clients who are the key to your business success.
Main Functions of Logistics & Trucking Apps
Trucking apps are aimed to enhance productivity, minimize costs and improve customer satisfaction for logistics companies. The way these apps function, it helps the trucking companies in acquiring new customers as well as holding onto the existing ones in an ever-changing and competitive market environment. Let's discuss the key functions of trucking apps that make them bring revolutionary change in the transportation industry.
Location Tracking Facility

In a GPS enabled device, through a trucking app the user can track vehicle location in two ways - cellular and satellite. With cellular tracking facility, the mobile device transmits the location of a particular vehicle, coordinated to the internet server. If there is no internet connection available, the real-time location data gets stored on the device's memory and will be transmitted later when the cellular network will be available again.

On the other hand, satellite tracking works together with a GPS tracker. It gathers a vehicle's real-time location information from a satellite and communicates it to a server using a mobile network, a radio or a satellite modem that creates a communication channel. But this tracking is only possible when that particular vehicle is also equipped with frequency converters and satellite antennas.

Other than real-time location information, GPS tracking in a trucking app provides the information about fuel amount, engine temperature, tire pressure, battery condition, network coverage status etc., to both the drivers and the dispatchers.

The best thing about the location tracking facility of the logistics trucking apps is the geofencing feature. Geofence is actually a perimeter around a particular location point. With this, the dispatcher can automatically confirm an appointment once a truck moves to a definite distance and allows the shipping company to monitor the process of delivery with utter perfection. Moreover, geofencing helps in preventing unauthorized vehicle movement.
Ease of Collecting Traffic Information

The trucking apps collaborate with Google or Yandex maps and thus one can access the traffic information through such apps easily. For example, Google Traffic displays real-time traffic conditions on major roads and highways across leading countries throughout the world. Also, it shows traffic incidents like any construction work happening in a particular place, accidents or road closure.

The drivers can access both historical and real-time traffic information of a particular place to get an idea. Google provides such information either through road sensors or from the drivers themselves. Some logistics app development companies provide separate navigational customized navigation app, enabled with GPS and Google Maps whereas some include this feature in their transportation app.

For example, a white label trucking app solution can integrate the navigation feature powered by Google Maps for drivers to get the most optimal route to save time and fuel.
Improvement in Fleet Performance

In assistance with mobile fleet management tools, trucking and logistics apps improve the fleet performance. They allow the drivers to log the driving time using smartphones. This way the fleet managers can check the logging time submitted by the drivers in real-time and view the current location of those drivers on the map. With automated fleet management, the overall shipping process becomes systematic and convenient for the shipping companies.

Also, trucking apps make the shipping process hassle-free. These apps help truckers update their shipping status and get new load requests. They receive real-time shipment requests with options to accept or reject in a particular time-frame before sending it to the next available driver.

Flawless Inventory Management

Be it a trucking equipment, load carrying unit or the cargo itself - every asset gets tracked and managed by a trucking app. There are two ways trucking apps do that. The first one is using a unique QR code to identify each individual asset which the users can scan with their smartphones. The second way of inventory management that the trucking apps usually follow is using radio-frequency identification (RFID) tag and near field communication (NFC) tag.

In a nutshell, today's trucking apps have successfully solved all the issues that cripple the pain points of transportation. They have added a layer of transparency to the supply chain in the logistics industry.

That is why more and more startups are entering the trucking industry with the out of the box ideas and logistics applications to solve the pain points of traditional logistics service and get great ROI.
Conclusion
The requirement for an application that integrates the transportation industry with the technological growth and the on-demand business model of a logistics app is really high. The market for logistics application development is prime for investment. Such apps make the transportation and delivery services seamless by optimizing freight management operations, improving efficiency, reducing cost and increasing sales.
Uber for trucking apps is certainly a leading name in the logistics industry. But for a startup, there's no need to own million dollar resources to be successful in today's logistics industry. All you need to do is matching the drivers with customers through your app and meet the on-demand functionality. Make sure that the customers and the carriers or drivers have separate market platforms. Trust me, it is manageable for even small businesses and developers as well. But not alone, of course.
So, if you are planning to come up with an intuitive trucking app for your logistics startup, check out how Truck Pulse, a white label trucking app solution, has come up with all that you need. Get started with custom-built trucking and logistics app and achieve higher operational efficiency, quality service, and happy customers.
Author's Bio

Nitin Lahoti is the domain expert of Logistics and Transportation. He has 12+ years of experience in Design, Business Development and Startups. His expertise is in Product Ideation, UX/UI design, Startup consulting and mentoring. He prefers business readings and loves traveling.