Networking has always been the first step to build a business. When it comes to building the audience base, networking is a vital method. As the base of transportation businesses relies thoroughly on the way we network. The fleet industry has a niche audience, including fleet managers, suppliers, fleet operators, and customers. Thus, networking becomes a priority for the growth of the business. So without further ado, let us understand what networking is and how we are applying it for trucking and fleet businesses.
What is Networking and How it Improves Communication?
In simple terms, networking in fleet and trucking businesses is a method to build relationships between employees i.e., truck drivers and back-office workers, with potential clients and employers. Previously, networking for the trucking industry meant connecting via in-person interactions for the steady growth of the trucking business. But, over the years, this notion has changed, as we are now equipping ourselves to utilize networking on various digital platforms for communication.
Fostering strong communication skills gains the right customers and employers for trucking and fleeting businesses. Networking is known to increase the value of the business for employees and customers. And further involving people's participation in the growth of the fleet and trucking companies.
This participation can happen over all the platforms needed for networking, whether through in-person interactions or on digital mediums. In the next section, we will explain the different modes of networking used to achieve our networking goals to meet potential customers and employers.
Networking for Trucking Industry: A Guide to Enhance Long-term Business Relationships
As we have previously stated, networking is the best way to meet like-minded people, especially for business purposes. Fleet operators or trucking companies heavily rely on interacting with customers and suppliers to expand their business and maintain their logistics management techniques.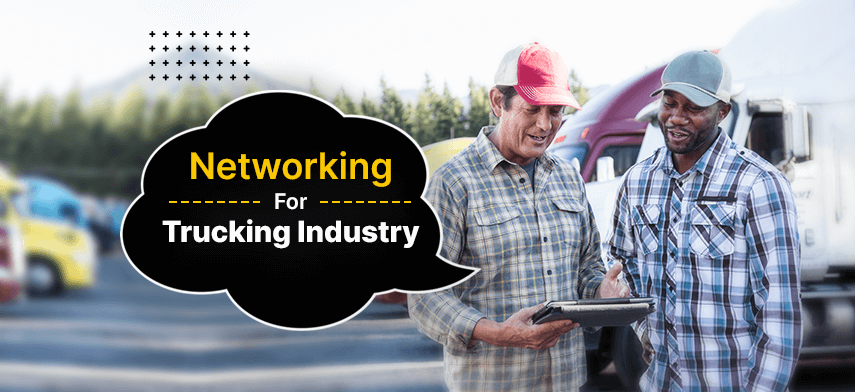 In today's world, these interactions have shifted to digital platforms. In the US itself, there are over a million fleet and trucking companies that cater to different approaches when it comes to networking. Apart from digital platforms, there are other ways we can interact and communicate with customers and employers to expand our business. We will be mentioning a few networking avenues that can be incorporated in the trucking and fleet industry.
Digital Freight Matching Platform

Most of our freight business depends on the demand for shippers for carrier capacity. Since freight forwarding relies on manual 'load boarding', this app simplifies the process to match shippers with their carriers. Digital Freight Matching responses are immediate when matching carriers to their shippers according to the shipment load. A lot of companies are investing in digital yard management solutions to specify real-time locations to know the status of loading to speed up the process. The digital freight matching application increases digital visibility for the transport management systems for potential customers and employers seeking freight solutions.

Social Media Networking

We are aware of the existence of social networking. It is a vast platform that caters to plenty of industries in terms of networking. Every social media platform offers the opportunity to connect with your ideal business networks. If you have already set your target audience, you can easily engage with your potential customers and employers with your business approach. As an enterprise management solution, having a website of your company, featuring what you are offering through your social media presence, helps in gaining visibility of the website and the business.

Social networking sites like Facebook, Instagram, LinkedIn, and Twitter are great platforms to showcase your business. You can feature content of your journey, achievements, and offers to your followers on social media. This helps to gain potential customers. You can follow relevant pages to see how they are portraying contents and accordingly update your profiles. Keeping your web pages active with blog posts and recent developments increases your web page viewership while maintaining transparency and enhancing opportunities for maximum profile visibility.

Customers and employers are always looking out for businesses offering excellent services. Your online presence and participation help in gaining new business opportunities as this works as social networking tools. Social media is a great way to stay connected with them for the trucking industry.

Organizing Events

Events organized by the fleet, trucking, or freight based companies are extremely valuable. These events are opportunities to meet potential clients through personal interactions, as this works as industrial networking solutions. In these events, suppliers, distributors, fleet managers, and customers from every company attend to make their presence known.

These organized events present an opportunity to interact with like-minded professionals and get to know their thoughts and observations regarding the industry. You can learn plenty about the new industrial upgrades, talk to them about your company, and ask them for feedback. Thus, increasing your company's visibility to your target audience through organized events.

Interpersonal Business Interactions

Maintaining communication through phone calls, texts, fax, and in-person visits determines that you are serious about providing your services. Courteousness towards clients is a bonus of networking for a longer period with them. These interpersonal interactions can happen over professional lunches or just for a reviewal of processes. This way of networking creates a stronger bond between your company and the clients.
Networking is a powerful tool that helps in the growth of trucking and fleet industries. Especially in this time of the pandemic, transportation industries have started utilizing digital technologies for their operations. COVID-19 impacted this industry the most, as lockdowns were put in place. Thus, traveling required permits from authorities to deliver goods and services to a certain location. Especially for fleet and trucking companies, commuting by road faced a complete halt during the pandemic. Let us see how COVID-19 affected fleet-based business.
Disruption in Networking Amid COVID-19
Initially, fleets felt the effects of COVID-19 as supplies from China arrived at the ports. Since then, the effect has spread across the supply chain. Therefore, delivering emergency goods and services experienced a complete standstill. The pandemic slowed down the process of shipments as routes were sealed off due to the lockdown.
This unnatural phenomenon affected the communication lines between carriers and shippers. Manufacturers across the supply chain temporarily shut their operations and began implementing safety and sanitation protocols to keep their customers and employees safe. This impacted the networking in several ways like:
Employees were unable to conduct follow-up procedures with clients as in-person visits became restricted.
Due to communication disruptions because of line congestion, truck drivers and operators were unable to communicate with their clients.
Customers started to turn towards other trucking companies closer to their home base due to the delayed shipment.
The shutting down of the trucking industry in the initial stage of the pandemic caused disruptions in communication with their clients.
The trucking and fleet employers and operators felt the pressure to shift their base of business on digital platforms to continue networking for their company.
Employees were unable to come into work causing a shortage of workers across supply chains, disrupting the networking channels.
Truck shows could not be conducted, affecting the opportunity to network with other companies hampering a company's visibility.
During this severe phase of the crisis, digital platforms helped transportation businesses elevate their business frameworks.
Digital Networking Practices to Combat the Pandemic
As the pandemic kept spreading, trucking and fleet businesses decided to adopt digital practices to cope with the situation. They turned to online market sales restoring the lost timeframe in this pandemic. New businesses launched before or during COVID-19 resorted to digital solutions as mentioned hereunder:
1. Digital Connectivity Solutions for Associated Stakeholders
Relying on digital solutions for networking enhances your company in the eye of associated stakeholders. Introducing digital frameworks only puts you at par with your associates' expectations. The transportation and logistics industry can follow certain digital mediums to increase their networking by:
Focussing on Monitoring Driver Communication:

Stakeholders can introduce driver apps to ensure clarity of communication between customers and operators. The driver communication monitoring tracks if the operators and drivers follow the necessary shipment and carrier protocols.

Training, Coaching, and Mentoring Remotely:

Having a stable cellular network, fleet-operators, trainers and mentors can conduct sessions through remote learning sessions. Managers and employees can update their work, convey any disruptions, and stay connected with suppliers, distributors, and customers.

Using Telematic Tools to Assess Revised Navigation:

Telematic tools help in finding the right routes and update the navigation system. It is a geofencing tool informing the user about upcoming routing information during deliveries and pick-ups.
2. Hosting trucking events on online platforms through webinars and live sessions. Thus, updating viewers about the changes in their systems and delayed deliveries.
3. Tracking orders, audits, supply, and deliveries on digital platforms via smartphones, tablets, or computers. This way, suppliers and customers can get real-time status of the shipment or any delay.
4. Through online networking, companies can invest in cost-effective methods of manufacturing and distribution.
5. Updating existing digital operations to stay connected with target customers and optimizing their engagement through online interactions.
Digital networking gained popularity in the last couple of months to better communicate with clients. Therefore, giving rise to the importance of networking in 2020.
Accelerated Trends in Networking through Digitization in 2020
Fleet and trucking businesses are known for their effective skills for networking. Some of the best networking technologies have completely changed the way of networking during this pandemic. For better understanding, here are some accelerated trends of networking through digitization that is bridging the networking gap.
Digital networking will expand businesses involving additional reach for targeted audiences.
The right stakeholders through networking are providing relevant channels for production and distribution.
Technological growth in networking is helping to increase audience engagement through digital platforms.
Fleets using e-documentation and e-payment modes are one step ahead of their networking game.
Contactless interactions acquired by companies are enhancing audience outreach in the future.
Final Thoughts
To conclude, 2020 may have been a year of challenges, but it made us adapt to changes that are better for networking. Speaking about your journey will open networking portals to a great extent invariably. Be creative, ideate, and inform yourself regarding the new trends on digital portals. While keeping yourself updated with the market changes too. With digital solutions now just on your fingertips, it is time we start networking better.
Author's Bio

Nitin Lahoti is the domain expert of Logistics and Transportation. He has 12+ years of experience in Design, Business Development and Startups. His expertise is in Product Ideation, UX/UI design, Startup consulting and mentoring. He prefers business readings and loves traveling.