COVID-19 has changed the way we look at the world. With this ongoing pandemic, companies in the transportation and logistics sector experienced a great set back. To cope with this pandemic, global suppliers and distributors had to rethink their supply chain strategies.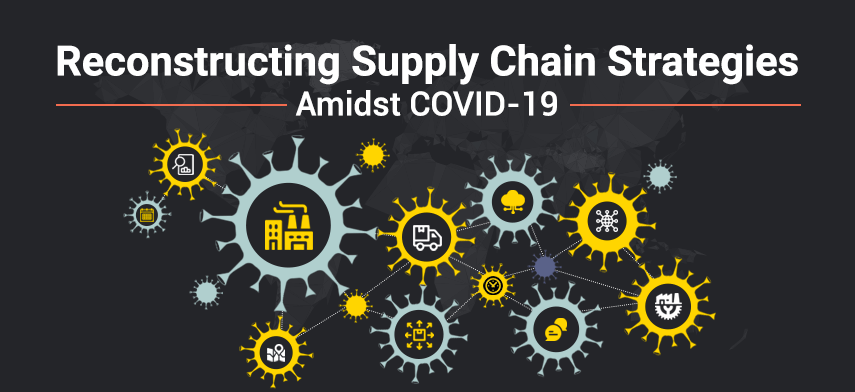 Companies have been frantically seeking modified versions of supply chain strategies to cope with this pandemic. Global suppliers and distributors located in the US, China, and the entire continent of Europe are enforcing technological methods for sourcing, delivery, shipment, and restocking their stores.
Various changes in the supply chain strategy instilled distinct and alarming distress amongst suppliers. The question that suppliers feared the most was, "will there be a recovery of inventories soon"?
Companies started to focus on introducing augmented strategies to tackle the current situation. Before discussing the implementation of augmented strategies, let's see how COVID-19 disrupted the demand-supply shock in the supply chain market.
Demand Surge Followed by Supply Shock
The first wave of demand surge occurred in regions of China's domestic market. A rise in demand for pharmaceuticals, medical, food, and sanitation products, and the supply sourcing hiked to 250% during the initial stage of the pandemic. Slowly this demand surge spread to other parts of Asia, the USA, and Europe. As nations started imposing lockdowns, customers started panic-hoarding causing a 'systemic demand shock.' Since transportation and shipment faced restrictions, delays in delivery resulted in a shortage in supply from companies as well as manufacturing warehouses to store shelves. This disruption in demand surge was followed by the supply shock.
With the fragility in the supply chain being exposed during the demand surge, companies struggled to meet daily increases in demand. This struggle ensued companies to carry out manufacturing and production with limited resources in a short period. While few companies reduced the variations of similar products to adjust optimum supply, other industries faced distinct problems to keep up with the sales. Companies began to engage in implementing resilient supply chain strategies to cope with this inevitable supply shock. These strategies cum solutions progressed into the aftermath of demand-supply shocks, felt at all levels of the supply chain.
The Aftermath of Demand-Supply Shock
The following ensued due to the demand-supply shock:
Freight forwarders competed to maintain distributions while facing delays.
A collaborative effort by global chains to reinforce resource and inventory management.
Safety and sanitation policies following COVID-19 guidelines were introduced at all levels in the supply chain.
Tracking orders, shipments, supplies, and distributions by implementing digital solutions.
Using AI to ensure better management through chatbots, IoT, and robotic automation processes facilitating rapid sourcing and distribution.
Investing in low-cost suppliers to boost inventory management, stabilizing supply chain strategies in the future.
Restructuring the global chain supply to establish a resilient supply chain and restore stock supplies efficiently.
Companies are now relying on various augmented strategies to overcome demand and supply shocks. These key supply chain techniques transformed the existing strategies through digital solutions to get through the pandemic.
Implementing Augmented Strategies to Cope with COVID-19
To prevent the effects of COVID-19, companies integrated digital solutions into their business framework. Thus, mitigating the risk of transmission. Let's take a look at and understand the augmented strategies introduced by them:
Contactless Protocols

The COVID-19 pandemic guidelines cited reduced interaction amongst people. Companies organized contactless protocols for the safety of employees and customers. The usage of hands-free devices to minimize the in-person interactions, enabling them to run operations smoothly. Mobile apps are being introduced to employees for smooth and contactless transitions to maximize market reach. From 'Barcode scanning' to 'voice-activation protocols', companies started using these advanced tools and technologies to cope with the unexpected crisis. Given the range of measures undertaken to provide employees and customer safety, contactless technology is a key supply chain tool providing effortless operations and real-time visibility.

Real-Time Visibility

To collect data from across global supply chains, it is necessary to maintain visibility in the company's front-end to back-end operations. Real-time visibility keeps track of supply chain management, helping to make better decisions and judgment to improve performance. This digital strategy helped in optimizing resources, detecting issues, and providing alternate solutions to track and manage the workflow of supply chain activities. Real-time visibility has helped to provide efficient data reports from their employees while gaining satisfied customer feedback even during this pandemic.

Digital Twin Collecting Transactional Data

Companies are tracking the production of raw materials, sub-components, pharmaceutical, medicinal and other supplies through digital twin technology. This has benefited companies to keep a record of all transactional data. An auto-report is sent to the administration, comparing it to the global supply chain management systems. This data further simulates supply chain management to keep track of expenses and requirements.

Vendor Onboarding

Digital supply chain solutions, like vendor onboarding, help companies operate sourcing from different locations. This digital solution documents the purchases of goods and services by the vendor maintaining a record through smart devices. This digital solution updates the companies on the process and notifies clients on payment requirements to existing and new supply partners.
The technological progress in supply reduced manual strain for operations like inventory management, auditing, supply stock requirements, supply management, and deliveries. Including digital solutions in their existing strategies mitigated unnecessary complications in operations. They combined upgraded additional digital tools to fulfill manufacturing and production requirements to counter the challenges faced in the industry.
Challenges Faced by the Supply Chain Industry
The global manufacturing operations faced major challenges during this pandemic. Starting from delay in shipment to inconsistency in the supply and distribution, companies sustained heavy expenses in their supply chain. A few of the challenges they experienced are:
Process visibility reduction in supply chain companies
The high demand inconsistencies
Fluctuating supply chain expenses
To overcome these challenges, companies increased their investments through technological innovations. The digital pathways opened up many opportunities to improve and optimize supply chain solutions.
Opportunities to Improve Supply Chain Market
To execute a smooth transition in maximizing distribution with cost-effective methods, multiple supply chain techniques have been introduced. These presented themselves as opportunities to reprogram supply chain strategies. Some of the opportunities experienced are hereunder:
Incorporating digitized processes to carry out supply chain processes at all levels
Expanding capacity and capabilities to adapt to the new normal following the changes in the global supply chain
Maximized resourcing by limiting excess availability of stock supplies
Better healthcare policies devised for distributors, suppliers, operators, and customers
Remote working policies to ensure maximum visibility across all digital platforms
Companies are putting maximum efforts to bring about digitization into their network. Digitization practices benefitted companies to identify sourcing issues and providing improved immediate solutions.
Best Practices to Improve Supply Chains through Digitization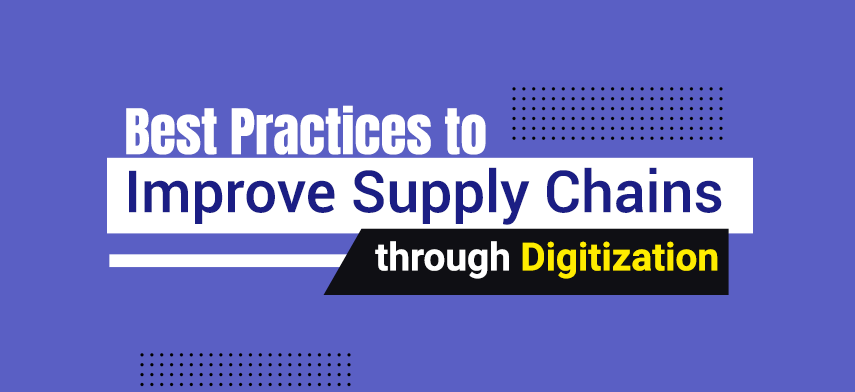 Companies can rebuild their existing strategies through digitization. It improves the quality of work and provides a chance to build a resilient supply chain network. Some of the practices that can be included in the supply chain systems are:
1
Meeting with Suppliers
Collaborating with global supply chains, companies can learn new supply chain tools and techniques, fostering better output. They can gather materials for production and manufacturing to continue their businesses efficiently by conducting meetings with suppliers and solution providers like Mobisoft Infotech.
2
Planning Demand as a Supply Chain Solution
Companies can determine the best possible ways to set up a structured demand plan to restrict disruptions. Managers and leaders can collaborate with global supply chain companies and reiterate their strategies to overcome future demands and supply needs.
3
Noting Supply Chain Resilience
Identifying the gaps in the supply chain can help in building a strong foundation for supply chain resilience. Noting these vulnerabilities can help subdue unexpected supply chain impacts.
4
Strategize Transportation
Suppliers and distributors can align transportation strategies to lessen the impact of such situations. Securing supply shortages through inventory management, rerouting transportation away from quarantine zones, reporting transporting delays to customers can help carry out the operations in a methodical procedure.
5
No-Contact Services
One of the main supply chain tools implemented across every industry is providing no-contact services amid the pandemic. This is an essential protocol for all supply chain retailers, distributors, and suppliers. No-contact services ensure customer and supplier safety as manufacturing, deliveries, and shipments are managed by the advanced technologies installed in warehouses.
6
Cashless Payment Methods
Maximized digitization can enhance companies to rely on cashless payments. Customers and suppliers can easily place orders and pay via different payment gateways. Cashless payment modes can help organizations purchase desired products via online portals connected with various payment options.
7
Online Support and E-Billing
Organizations and customers may continue to face delays in deliveries. Having an online support team can help maintain the company's transparency. Retailers, distributors, customers can easily seek online support on digital platforms and seek guidance for their shipments. After each order has been placed, an electronic bill or e-bill is generated after completion of payment containing order/shipment details. E-billing can help in rectifying any replacement/exchange related problem.
Conclusion
Digital innovations are not new to the logistics industry. Adapting and investing in digital solutions has strengthened the capabilities to work efficiently. The COVID-19 pandemic has provided an insight into the supply chain monitoring. Boosting digitization increased performances to an optimum degree at all levels in the supply chain. Preparing for the future and knowing the aids in pushing ourselves further to establish a resilient supply chain, invest in digital solutions for efficient supply chain management.
Author's Bio

Nitin Lahoti is the domain expert of Logistics and Transportation. He has 12+ years of experience in Design, Business Development and Startups. His expertise is in Product Ideation, UX/UI design, Startup consulting and mentoring. He prefers business readings and loves traveling.