From gold to paper to finally cashless, the way we make payments has undergone various changes. The trucking industry, which is mostly in the cash and paper-based sector, is adopting digital payment systems. This change comes as a result of the impact caused by COVID-19 on the global transportation and logistics market. Today, we'll delve into the increasing use of remote payment systems in the trucking industry and its consequent effects.
Contactless Payment System in the Trucking Industry
Contactless payment is a secure method to complete a transaction using a digital payment system that utilizes near-field communication (NFC) or radio frequency identification (RFID). This mode of payment is also known as tap-and-go. A digital payment system includes two components: a point-of-sale (POS) terminal with contactless payment technology and a payment device (a card, smartphone, etc.).
Let's take a quick look at how these systems work. When a merchant has a payment to collect, he enters the requirement in the electronic transaction system. The POS system prompts the payment request. The customer can now bring the card close to the system, and the terminal will process the payment using the electronic transmission of information. Therefore, the customer won't need to swipe or enter a PIN to complete the transaction.
The use of contactless payments is visible in various segments and industries, with the trucking and freight industry leading the revolution. The coronavirus pandemic has adversely impacted the logistics industry across the globe. As a result, there's an evident rise in mobility-based contactless payments for a touchless experience.
Large scale trucking industries run hundreds and thousands of transactions per day. And several transit systems have experienced hefty losses due to increasing costs of safety and cleaning procedures. Hence, transit systems are under immense financial pressure.
Amid such a crisis, virtual payment systems have emerged as a safe point of connection between the suppliers and consumers. Trucking companies worldwide are implementing EMV contactless solutions, and the digital boost is pushing this adoption faster than ever before.
Types of Contactless Payment Systems
The concept of contactless payments isn't new. It dates back to the 1990s, but back then, only a few companies were using the technology. Besides, the technology was underdeveloped and limited to cards only. Since then, contactless payments have come a long way. Here are the different types of contactless payments available now.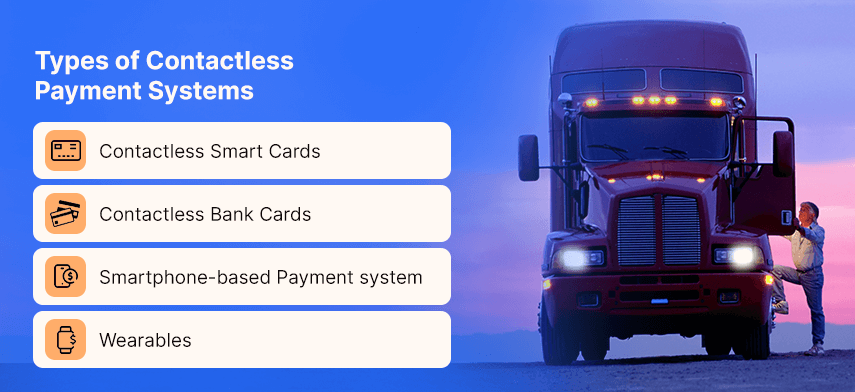 Contactless Smart Cards

A contactless payment card utilizes RFID technology to communicate with a payment terminal. Every card comes with a built-in antenna that interacts with a reader. Contactless smart cards fall under three categories: Low frequencies (below 150 kHz), Smart Contactless Frequency (13.56 MHz), and Microwave frequencies (2.45 GHz).

Contactless Bank Cards

These cards work similarly to smart cards, but they're affiliated with a specific bank. Some common examples include MasterCard Contactless (MasterCard), ExpressPay (American Express), and Visa Contactless (Visa). Contactless bank cards fall into two categories: contactless EMV (cEMV) and magnetic stripe data (MSD). Contactless EMV cards are similar to normal EMV but with added contactless capabilities.

Smartphone-based Payment system

Cards only make a small portion of contactless payment systems. The rise of mobile and digital wallets has made smartphones a full-fledged payment machine used widely in the trucking industry. Google Pay and Apple Pay are common examples. More importantly, these methods need secondary authentication (biometric scan or passcode), and thus, they don't have a transaction limit. This opens contactless payment opportunities for high-value transactions.

Wearables

With remote payment systems evolving, only the sky is the limit for innovation. As if cards and smartphones weren't enough, contactless has found its way to wearables, as well. Now, smartwatches and wristbands are also coming with NFC technology, taking contactless payments to a whole new level.
Contactless Payment Strategies Deployed by Trucking Companies
The changing landscape of the transportation sector has encouraged the trucking industry to deploy new strategies and innovations. Let's delve into a few innovations and developments taking place in the trucking and freight industry to cope with the rising demand for contactless payments.
1
Technological Advancements
The increasing need for contactless payments has led to the development of cutting-edge digital solutions. Trucking companies across the globe are adopting contactless freight payment systems in the form of cards and mobile wallets, attempting to leverage advanced technology.
2
Automation
Human contact is one of the biggest concerns during the COVID-19 crisis. To overcome this hurdle, trucking companies are adopting automation solutions. For example, remote POS terminals are being deployed to make payments and generate invoices without any human intervention.
3
Collaborations
Collaboration is on the rise, especially in last-mile delivery. The sudden disruption has caused inconsistencies in last-mile deliveries. Trucking companies are resolving this issue by increased collaboration in the form of joint ventures, alliances, or mergers and acquisitions (M&A) with digital product development companies or technology partners to integrate payment systems.
4
Start-Ups
The rising demand is meeting with sufficient supply, as new start-ups are making their way to the logistics industry. New business models are being implemented to overcome hurdles during this time of crisis.
How Have Contactless Payment Methods Revolutionized the Transport Business?
Before the COVID-19 pandemic crippled humankind, the efficiency and benefits of a digital wallet payment solution were controversial. But now, they've emerged as lifesavers.
According to the World Health Organization, COVID-19 can spread through currency notes and debit and credit cards. This poses a major concern for the transportation industry, as it relies mainly on cash transactions. Whether it's public transport or freight and trucking, the use of cash and paper receipts is prevalent.
The use of virtual payment systems has emerged as an effective solution to curb this spread. The WHO told the Telegraph that if possible, people should use contactless payments.
Adopting contactless payments can alleviate the spread of COVID-19. Though countries across the globe are opening up, people are still concerned about exposure to the virus. And even when the pandemic entirely diminishes, contactless payments will remain to be the primary mode of transaction.
The change was first witnessed in the public transport sector to help people skip the ticketing booth queue. Slowly, the trend spread to private transportation businesses, such as trucking and freight industries.
The benefits of digital payments in the trucking industry go beyond safety or reduced risk of transmission. Paper-based invoices that were largely used in the trucking industry had major drawbacks, such as:
Lost Payments: The lack of a digital platform means there'll be cash transactions accompanied by paper invoices. Storing and keeping track of these paper records is a hurdle. They can be damaged, lost, or even stolen. Besides, the risk of inaccuracies is also high in handwritten receipts.
Payment Delays: Paper and cash transactions led to delayed payments. Warehouses didn't get paid in real-time, so they had to wait to be billed. The condition further worsened when there were unexpected changes in the warehouse environment.
Accepted Payment Forms: Non-digital payments are of various types, with cash and check being the most common. But different companies have different accepted payment forms. What if you use a check, but the other party only accepts cash? This will halt the payment operations, and either you or the other party will have to find an alternative payment method.
A contactless payment card resolves this hurdle. By digitizing your payments, you can eliminate operational limitations and enhance your efficiency. Since paper invoices and receipts aren't involved, you don't need to worry about storing them. An electronic transaction system also eliminates the limitations of accepted payment modes. Here's how contactless payments have revolutionized the trucking industry.
Reduced Reliance on Paper

Contactless transactions allow you to eliminate cash, check, receipts, and any paper involved. It helps you save the time you would've otherwise spent on writing invoices, tickets, and checks. This way, you can speed up your payment procedures and dedicate your time to core tasks.

Real-time payments

As discussed, warehouses often suffer from delayed payments. Since contactless payments are mobile, they enable you to make and collect payments instantly. Therefore, you don't need to wait for the work orders to be signed off to receive the payment.

Reduced Operational Disruption

Paper-based transactions cause disruption. As discussed, warehouses and trucking companies have different accepted payment methods. If you use cash, but the other party needs a check, you'll need to find a common way to make a payment. With a digital wallet payment solution, you can carry out payments seamlessly.

Enhanced Security

We'll talk more about security in a transaction monitoring system in a while. But for now, let's keep in mind that paper transactions are unreliable and insecure. The risk of error is high, especially in handwritten receipts. Also, physical tokens are at risk of being stolen or lost.

Better Employee Management

Back in the day, trucking and transportation employees had to submit receipts of the costs incurred. The administrators reviewed these receipts, and then the employees were reimbursed. Digital payments simplify and streamline the accounting and reviewal process, making employee management more efficient.
That's not all. Recent developments in contactless technology have paved the way for new innovations for trucking and logistics companies. For example, Electronic Invoice Presentment and Payment (EIPP) is a recent development that allows electronic transactions using any web-based B2B system.
And if we look a bit further, blockchain will likely become the new normal in the logistics industry. It will enable trucking and freight companies to optimize and streamline their supply chain operations.
But what about security?
Although digital payments have revolutionized the transportation industry, people are still skeptical about them. The biggest reason for this is security concerns, and rightly so. Contactless payments are effortless. You can make a payment instantly without even entering a PIN.
But there is little to fear, as mobile contactless payment systems attain with several security measures. Every contactless card has a unique key that utilizes encryption to generate an authentication code or card verification value. Since every card has a unique key, the card issuer can identify each transaction. If the issuer detects something suspicious, it can decline the transaction.
Besides, contactless payment systems work on a small range (2-4 inches), so you have to be present at the terminal to make the payment. The system utilizes the same network used to process magnetic stripe transactions, and the network has proven to be secure for decades. Lastly, the name of the cardholder is never disclosed. Even if, by chance, someone gets hold of your card details, they can't use them for any transactions.
Future Trends in Digital Payment Solutions
Contactless payment systems were already producing visible changes in how companies were conducting business. But with the COVID-19 outbreak affecting the global supply chain, tap-and-pay has overtaken cash and paper transactions.
But as we move into a cash-free world, more changes are set to occur in digital payments. Let's look at some future trends in digital payment solutions.
i
Biometric authentication
Biometric authentication includes fingerprint scanners and facial/iris recognition to conduct payments. With data theft and fraud being topics of constant concern, biometric authentication will likely enhance the security of contactless payments.
ii
Mobile POS
Mobile point-of-sale (POS) has revolutionized retail payments. Restaurants, for example, can now use food trucks with mobile POS capabilities to sell to a larger audience in different areas. The use of mobile POS is likely to increase in the trucking industry as the need for flexible payment solutions is on the rise.
iii
AI and ML
As discussed, security remains to be a topic of concern in digital payments. This has led to the use of Artificial Intelligence (AI) and Machine Learning (ML) to detect and eliminate security threats.
iv
Mobile Wallets
Mobile wallets like Apple Pay and Google Pay have already established their presence as go-to mobile contactless payment solutions. And with the number of mobile wallet users rising to over 2 billion in 2019, the development of the mobile wallet sector is destined.
Wrapping Up
To exercise the benefits of a transaction monitoring system, trucking & freight companies should implement digital payments in their day to day operations. Making a small change, like posting a contactless payment symbol at your POS location, can make a huge impact on your business. At the same time, it's also crucial to work with your payment provider to learn about the new payment technologies and vulnerabilities.
Author's Bio

Nitin Lahoti is the domain expert of Logistics and Transportation. He has 12+ years of experience in Design, Business Development and Startups. His expertise is in Product Ideation, UX/UI design, Startup consulting and mentoring. He prefers business readings and loves traveling.