Logistics & fleet management is one of those businesses that include complex operational elements. The trucking industry is consistently growing, but operational challenges and costs are also rising with it.
Fleet management software solutions have emerged as an effective solution. Here's a detailed guide to fleet management software and how it can enhance the efficiency of your trucking and logistics business.
Fleet Management: What it is and Why it's Needed?
Before delving into GPS fleet management software and how it works, let's take a quick look at the concept and fleet management. Any logistics, warehousing, or supply chain organization that involves commercial vehicles from transporting goods and products engages in truck fleet management in some form.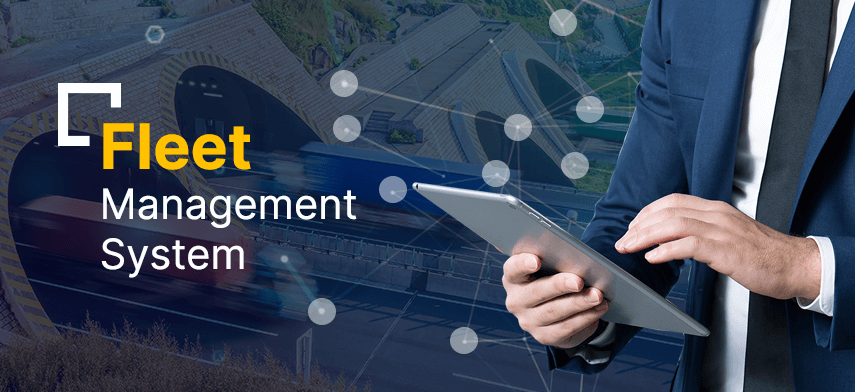 Fleet management is defined as the process of managing the entire fleet and asset information ranging from acquisition to maintenance to disposal. It includes the management of commercial motor vehicles, private vehicles (grey fleet), ships, aviation machinery, rail cars, and non-powered assets.
Personnel in charge of vehicle fleet management are referred to as fleet managers. They're in charge of overseeing the entire fleet management process, including driver management, vehicle maintenance, route planning, asset utilization, and more.
With supply chains across the globe adopting cutting-edge technologies, fleet managers and organizations need to optimize their fleet management processes. Here's why efficient truck fleet management is critical to a logistics and supply chain company.
Types of Contactless Payment Systems
The concept of contactless payments isn't new. It dates back to the 1990s, but back then, only a few companies were using the technology. Besides, the technology was underdeveloped and limited to cards only. Since then, contactless payments have come a long way. Here are the different types of contactless payments available now.
1
Driver Shortages
Though the minimum wage for drivers has increased (mainly in the US), the shortage of drivers has continued to be a hurdle over the past ten years. And as the lockdown restrictions ease, more demand for truck drivers will arise, and fleet managers will have to cope.
2
Digitization
The fleet management process has become increasingly digital. Gone are the days when fleet managers had to maintain registers and call drivers regularly to track vehicle routes and maintain compliance. Now, with fleet management software solutions in place, fleet managers can track their operations digitally. However, this also leads to an increasing need for digital transformation in supply chain organizations.
3
Fuel Costs
The rising fuel costs have been a constant concern for fleet managers. Fluctuating fuel usage and fuel costs can cause substantial spikes in fuel expenses. Therefore, fleet managers need to stay updated on fluctuating fuel usage and costs.
4
Route Optimization
A report from Sustainable America stated that an average American spends 16 minutes idling their vehicle, which leads to a waste of 3.8 gallons of gas and $7,980,000 every day. Idling is a significant concern in the trucking industry, too. Effective vehicle fleet management can help you utilize automatic route optimization. It ensures your drivers take the shortest possible route and stay on track, thereby avoiding any additional expenses.
5
Driver Behavior
Inappropriate driver behavior has been a hurdle for fleet managers for years. It leads to higher fuel costs and maintenance costs. Besides, it also causes late delivery, which leads to adverse user experience. In all, it impacts the bottom line of your business. GPS fleet management can help you monitor your drivers' behavior and ensure their behavior aligns with your requirements.
6
Security
Automation and digitization of fleets offer several benefits. But with benefits come challenges. The increasing use of digital technologies has made it essential for fleet managers to prioritize the safety and security of their assets. This includes the history, warranty, and maintenance of the fleets.
Fleet Management Software
With fleet management becoming more complex and technology-driven, it's challenging for fleet managers to manage all operations manually. Here's where fleet management software solutions come to the rescue.
A fleet management system (FMS) is a computer program that allows fleet managers to get a comprehensive overview and control over their fleet of vehicles. These solutions enable you to centralize all fleet management tasks, including vehicle acquisition and management.
A vehicle fleet management system's primary function is to collect, store, process, organize, analyze, and report fleet information. This information could either be obtained from outside sources, like territorial authorities, gas pump processors, etc. or from internal sources like drivers, automated tools, etc.
Now comes the question: who is it for?
Well, everyone from a small restaurant with ten motorbikes to a large trucking company with a fleet of 100 trucks can utilize fleet management tracking software. Features like live tracking, predictive maintenance, and driver behavior monitoring can enhance the efficiency of a business of about any size. But GPS fleet management solutions are best suited for supply chain, logistics, and trucking companies that need to manage many vehicles.
How Does Fleet Management Software Work?
Any fleet management software uses a combination of GPS and Big Data Analytics to collect, track, store, and analyze information. It also uses the same sources to make predictions for maintenance and route optimization.
These solutions connect to a telematics system installed on the vehicle. Through these telematics systems, fleet management software gets all information about the vehicle.
It takes less than 30 minutes to get a fleet management system up and running. Most solutions also come with self-learning resources to guide you through the working of the software. Once set up, you can manage and control your entire fleet from the dashboard.
Fleet management solutions come with an intuitive dashboard. The dashboard consists of an overview of all truck fleet management operations from where you can navigate to different sections of the software.
Key Features of Fleet Management Software
Picking the right fleet management software can make all the difference to your fleet's efficiency and performance. It is essential to choose a software solution with a proper set of features and functionalities. Here are some of the key features every fleet management system comprises.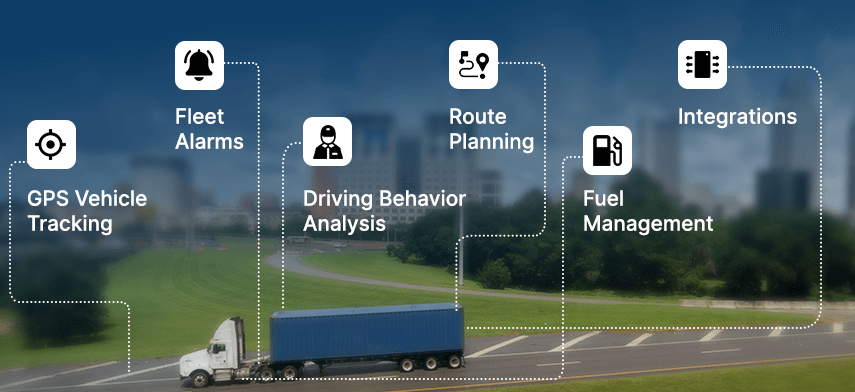 i
GPS Vehicle Tracking
GPS tracking is an essential feature of fleet management. When you implement a fleet management system, a GPS tracking device is installed on every vehicle in the fleet. The device integrates with the software, providing you with real-time location data of your fleet and drivers. Real-time location tracking allows you to determine which routes your drivers are taking, where they are stopping, and for how long. You can also use location to detect delivery time delays and excessive fuel consumption.
ii
Fleet Alarms
Efficient fleet management boils down to responding promptly to different fleet situations. With vehicle fleet management software, you can create custom alarms as per your requirements. These alarms would alert you in case of an issue or fault. As a result, you'd be able to make informed business decisions quickly.
iii
Driving Behavior Analysis
As discussed before, trucking companies lose a substantial amount of money due to inappropriate driver behaviors. What's worse is that fleet managers had no way to determine it. Fleet management systems offer a driving behavior analysis module, enabling you to identify aspects like harsh driving, acceleration, speed, idling, braking, and more. You can use this information to train your drivers and improve their performance.
iv
Route Planning
Be prepared to incur hefty losses if your fleet isn't taking the optimized route. Longer routes can lead to increased fuel consumption and more idle times, all contributing to increased losses. Every fleet management maintenance software solution comes with a route planning and monitoring module that allows you to plan and optimize fleet routes. You can determine the shortest and most-favorable routes for delivery using fleet management software's intelligent analytics.
v
Fuel Management
Fuel wastage is a common problem in the trucking industry. Fuel costs are the most significant component of total trucking and logistics costs, comprising more than half of the overall expenses. Therefore, even the most minor fluctuations in fuel costs can greatly impact the total fleet management expenses. Fleet management solutions come with a dedicated fuel management module to overcome this hurdle. It helps you monitor fuel levels 24x7 across all vehicles. You can also see how often the vehicles are being drained and refueled. Thus, you can easily and instantly spot any instances of theft or unnecessary fuel wastage.
vi
Integrations
An often overlooked feature of fleet management software is its ability to integrate with other resolutions. Though a fleet management system offers robust capabilities, it won't help you manage your entire business. You'll still need solutions like ERP system, warehouse management system, CRM, and more to create an exhaustive digital ecosystem for your businesses. Thankfully, fleet management solutions integrate seamlessly with such solutions. Therefore, you can manage all your business operations from a single place.
How Fleet Management Software Enhances Operational Efficiency?
Back in the day, fleet solutions served drivers, vehicles, or managers. But now, as technology advances, modern-day fleet management systems are capable of serving all three groups at the same time. The benefits of fleet management software are endless, but the impact is the most profound on the efficiency of fleet managers. Here's how fleet management solutions can enhance the operational efficiency of your fleet.
Positive Driving Habits

Drivers can quickly become aware of inefficient driving behaviors when using a fleet management system. Fleet managers can also instantly detect harmful driver behaviors and correct them. This leads to a culture of positive driving habits, which directly impacts the overall efficiency and productivity of your trucking and logistics business.

Vehicle Health and Predictive Maintenance

Fleet vehicles typically undergo scheduled annual or half-yearly maintenance. This is a good strategy, for sure. But what if an issue arises in a vehicle months before the scheduled maintenance? Would you want to wait for six months for the damage to worsen and make the maintenance more costly? Fleet management solutions help you detect vehicle faults in real-time. As a result, you can schedule maintenance promptly and ensure optimum vehicle health.

Sometimes, drivers are careless. They overlook minor faults in vehicles and continue driving. But this further deteriorates vehicle health and increases costs. Fleet management maintenance software provides predictive maintenance capabilities that enable you to control vehicle damage in time.

Accurate Operation Records

Fleet management platforms store and organize information, including operational data, fleet data, and road information. Managing so much information at a time would be impossible in the case of a manual, paper-based data entry process. Additionally, manual procedures are prone to human error. Using fleet management solutions, you can automate the storing and updating of operations records. This helps you stay informed, compliant, and more efficient.

Reduced Costs

As mentioned before, fleet management tracking software solutions allow you to analyze driver behaviors, including idle times, driving routes, and harsh driving. In addition, these systems also enable you to detect draining and refueling of vehicles. In all, you can stay on top of how every drop of gasoline is being spent. As a result, you'd be able to detect and avoid unnecessary fuel wastage. And as mentioned before, fuel costs encompass more than half of the logistics costs. Therefore, reducing fuel wastage will help you reduce operational expenses.
Conclusion
Irrespective of your business type, if your business includes vehicles, a fleet management system will be a worthy addition to your arsenal. It can help you detect unusual driver behaviors and fuel wastage and enables you to become more efficient and profitable. What are you waiting for? Implement a fleet management system for your trucking business now.
Author's Bio

Nitin Lahoti is the domain expert of Logistics and Transportation. He has 12+ years of experience in Design, Business Development and Startups. His expertise is in Product Ideation, UX/UI design, Startup consulting and mentoring. He prefers business readings and loves traveling.